December 09, 2013
FDA greenlights Gilead's sofosbuvir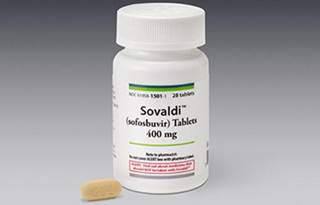 Gilead's hepatitis C treatment sofosbuvir has a brand name—Sovaldi—and a marketable indication: for genotypes 1, 2, 3 and 4. The FDA approved the oral drug Friday, and it's priced at $7,000 a week, or $28,000 for a one-month supply. The total cost comes down to which version of the condition is being treated and if ribavirin and/or interferon are a required part of the therapy. This is the third Breakthrough Therapy drug the FDA has approved.
As noted by ISI Group analyst Mark Schoenebaum, the costs for each genotype look to be as follows:
Genotypes 1 and 4, at 12 weeks, requiring Sovaldi, ribavirin and interferon: $84,000
Genotype 2, at 12 weeks of treatment with Sovaldi and ribavirin: $84,000
Genotype 2, at 24 weeks of treatment with Sovaldi and ribavirin: $168,000
Genotype 1, among those who cannot tolerate interferon, requires 24 weeks of treatment with ribavirin: $168,000
In comparison, Johnson & Johnson's oral drug Olysio (simeprevir) also costs around $22,120 per month, before add-ons like ribavirin, or around $5,880 less than Sovaldi per month. Goldman Sachs's Jami Rubin speculated in a December research note that AbbVie—whose hep. C all-oral contender is still in Phase III—
could also pose some serious price competition by settling into a sweet spot in which its efficacy can put it in the same pricing territory as Gilead and Johnson & Johnson's antiviral, but without picking a price fight with relatively lesser drugs like Vertex's Incivek and Merck's Victrelis, two older protease inhibitors.
ISI's Schoenebaum wrote Friday that the FDA's go-ahead with an all-oral version for genotype-1 patients was a surprise for Wall Street, which "was unaware that these data had even been submitted to the FDA," and that the then-expectation was that the regulator would give the GT-1 approval as long as it included interferon and ribavirin.
Despite the promise of an all-oral genotype-1 therapy, Schoenebaum added that he does not expect doctors will jump on the injection-free treatment option, saying there was little data to back this option, and that Gilead is expected to launch a "simpler (likely around $100K), cheaper, safer and more effective regimen in about a year," for this same population.
Scroll down to see the next article