August 08, 2012
FDA hits Forest with a list of marketing violations on COPD drug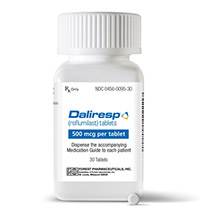 The FDA's Bad Ad watchdogs have struck again, and this time Forest took the hit. The drugmaker was accused of improper marketing practices by reps promoting COPD drug Daliresp (roflumilast).
The untitled August 1 letter from the agency's Office of Prescription Drug Promotion (OPDP) noted that two sales reps failed to "present the appropriate patient population for Daliresp as described in the approved indication," and that "they did not discuss that Daliresp is not a bronchodilator and is not indicated for the relief of acute bronchospasm," as described in the PI. The two representatives made the alleged sales call in October 2011.
OPDP said it became aware of the reps' statements to an HCP as a result of a complaint to the OPDP's Bad Ad Program, which encourages both physicians and the public to report sketchy claims made in drug advertising.
The sales team also minimized the drug's risk, according to the OPDP's letter, even when specifically asked about issues like weight-loss and suicidiality. The complaint alleges the sales reps did this by saying other prescribers "were pleased with [Daliresp] and were not reporting any adverse events." (Emphasis is the FDA's.)
Yet the FDA's complaint was not limited to this one incident – it also provided a rap sheet of sorts, and recounted a series of problems, among which included May 2011 and July 2011 OPDP communiques urging Forest to rethink Daliresp marketing materials because they implied the drug could be used for a wider indication than allowed. The division also noted how Forest ran afoul of the agency in April 2011 over its fibromyalgia drug, Savella (milnacipran). In this instance, the FDA said Forest reps were talking up off-label uses and, as in the Daliresp incident, downplaying risks.
"OPDP is concerned that Forest is continuing to promote its prescription products in a violative manner despite clear direction from OPDP," the agency wrote.
The letter also brings up a 2010 corporate integrity agreement between the drugmaker and the Office of Inspector General of the Department of Health and Human Services that requires the company to keep a keen eye on its promotional materials and its sales force to make sure presentations are in sync with FDA-approved messaging. The letter expresses OPDP's concern that the latest Daliresp incident violates this pact.
In response to queries, Forest spokesman Frank Murdolo told
MM&M
by e-mail, "Forest policy strictly prohibits the type of statements that have been alleged, and we take any allegation of non-compliance very seriously. We are looking into this matter, which appears to relate to a single sales call last October. We will respond fully to the FDA and will take any appropriate action once our investigation is complete."
Scroll down to see the next article