June 24, 2010
FDA OKs Merck's Dulera for asthma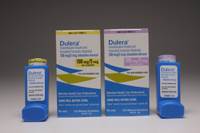 FDA approved Merck's Dulera, a combination inhaler, for asthma patients 12 years and older, the company announced today.
Dulera consists of an inhaled corticosteroid and a long-acting beta agonist, and shares an active ingredient with Merck's Asmanex and Nasonex (mometasone furoate), and Foradil (formoterol fumarate). Dulera carries FDA's most severe safety warning, the black box label, which in this case warns patients about the potential for asthma-related death associated with long-acting beta agonists, or LABAs.
Tara Camp, director of global communications, respiratory, at Merck, said the company is currently conducting phase 3 trials with Dulera for chronic obstructive pulmonary disease (COPD). GSK's Advair and AstraZeneca's Symbicort are also LABAs, and both have asthma and COPD indications. Merck's Foradil, like other LABAs, carries a black box warning and is approved for asthma, COPD and exercise-induced bronchospasm.
Sales forces supporting Dulera will target "any healthcare professional that is involved in respiratory care of asthma management," according to Camp. She declined to comment on the number of reps deployed on the brand.
On the consumer side, Camp said educating patients is extremely important, and that Merck "will be sure to make available pertinent information that can aid in their interaction with their healthcare professional." Cline Davis Mann is handling professional advertising on Dulera, and DaggerWing, DDB Needham and Saatchi are involved in interactive and consumer activities for the brand, said Camp.
Dulera is not indicated for the relief of acute bronchospasm, and should not be used with patients "whose asthma is adequately controlled on low or medium dose inhaled corticosteroids," according to the drug's label. Two strengths of Dulera are expected to be available nationwide by the end of July, according to a company statement.
Separately, Merck inked a deal with Nycomed to co-promote Daxas, a late-stage COPD drug. Once approved, Merck will co-promote Daxas with Nycomed in Canada and the UK, and in "certain European countries," according to a statement. In the US, Daxas will be marketed by Forest Laboratories, pending FDA approval. Daxas received a complete response letter from the FDA in May, but the letter did not request additional patient trials, according to a Nycomed statement.
Scroll down to see the next article