February 11, 2014
FDA takes closer look at AZ's saxagliptin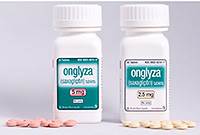 The FDA is looking into a possible association between type 2 diabetes medication saxagliptin and heart failure. The drug was not associated with a higher risk of death.
Saxagliptin, also known as Onglyza and Kombiglyze XR, was initially part of a Bristol-Myers Squibb/AstraZeneca alliance. AZ took full ownership of products from the now-former joint venture late last year.
The regulator announced the investigation Tuesday, citing a study in the New England Journal of Medicine published in 2013 that found that more saxagliptin patients were hospitalized for heart failure than were placebo group patients.
Saxagliptin was not linked with a higher rate of stroke, which was another study endpoint.
The FDA said in a statement that it is not advising patients to stop using saxagliptin, nor is it asking doctors to stop prescribing the DPP-4 medication.
Scroll down to see the next article