September 27, 2013
Five patient-powered companies that don't exist, but maybe should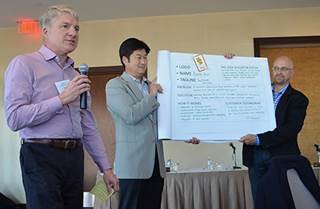 More than 40 industry thought leaders—including pharma and health company execs, health digital consultants, agency leaders, entrepreneurs from patient-centric startup companies and online health influencers—gathered in Boston Thursday at Wego Health's Socialpalooza.
The goal was to develop patient-empowering business concepts that could transform healthcare. The five ideas below came out of the daylong summit and are ones these leaders say the market needs, and investors should look for.
Concept: Mighty
Challenge: Managing health often happens late, costing the healthcare system billions. Management at this state is a larger hurdle because consumers are coping with health issues and ingrained behavioral habits that become harder to change with age.
Solution: Mighty, a wearable health-behavior tracker for kids that is connected to a patient support community. Mighty, which is shaped like a mouse, rewards children for healthy lifestyles as it tracks data. It also learns a child's behavior and is designed to "grow" with kids and reinforce healthy habits through adolescence.
How it works: Mighty tracks steps, distance, calories and sleep. Parents set and manage health goal and rewards.
Concept: Buddy Bear
Challenge: Rare and chronic illnesses leave young patients feeling isolated and depressed.
Solution: A 14" stuffed bear with an iPad mini kids can use to connect with virtual support communities of others living with their disease and tap into multimedia education offerings.
How it works: The iPad includes personalized content and interface, and connects with multimedia education developed by online community and patient influencers.
Concept: Appointment Rabbit
Challenge: Poor doctor-patient communication can lead to negative healthcare outcomes.
Solution:
Appointment Rabbit's online appointment planner helps HCPs and patients create a healthcare visit agenda.
How it works: Patients enter their visit priorities into Appointment Rabbit, which takes this information as well as dips into the patient's EMR to provide updates/topics of notes based on the patient's history. Doctors provide feedback, visit-prep instructions and pre-visit education materials. The reconciled agenda is then sent to the patient along with suggested questions from a database of patient influencer resources.
Concept: Simba
Challenge: Poor adherence to prescription medications
Solution: Simba's mobile, motivating medication-taking app that uses crowd support and social accountability.
How it works: Patients register with Simba to track their medication. The app connects patients with the same condition, creating a community moderated by patient influencers that provides ongoing support and medication reminders. Patient influencers also provide support, recognizing milestones and providing rewards to motivate positive behaviors.
Concept: Healthring
Challenge: Provide motivation and technology for an aging population in need of healthcare information
Solution: Healthring's phone and Internet community-powered patient education and support
How it works: Caregiver or HCP creates a senior's profile, into which caregivers will upload audio content from patient influencers that are customized for a senior's needs. These playlists will be synched with a call schedule, dialing a patient at pre-set times and delivering the appropriate audio. Seniors will also be able to use the service's keypad prompts to request appointments, prescription refills and audio consults.
As a next step, Wego Health's panel of consumer health activists will vet these ideas. The results of their review, along with comments, will be available Monday in another exclusive MM&M report.
Scroll down to see the next article