May 05, 2011
For Tradjenta, a tough climb, and for Lilly, a vital one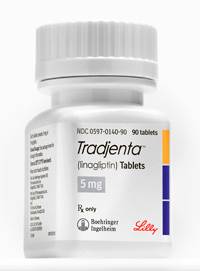 Lilly and Boehringer Ingelheim's diabetes collaboration saw its first approval as the FDA gave the green light to Boehringer's Tradjenta (linagliptin) type 2 diabetes medication earlier this week. The oral anti-diabetes drug, third-to-market in its class, faces an uphill battle against an entrenched category leader and another challenger brand that's had a 22-month head start.

Like Merck's Januvia (sitagliptin) and Bristol-Myers Squibb and AstraZeneca's Onglyza (saxagliptin), Tradjenta belongs to the DPP-4 inhibitor class and is the first of the group to be approved with just one dosage strength (5 mg, once daily). DPP-4 inhibitors spur insulin production by blocking the enzyme that dissolves one of the hormones that tell the pancreas to make more of it, thus bumping up levels of the chemical messenger, known as GLP-1.

"Many people with type 2 diabetes are not able to control their blood sugar with diet and exercise alone and may also require one or more medications," said University of Rochester School of Medicine's John Gerich, MD in a company release. "The FDA approval of Tradjenta is exciting because there is only one dose to remember for all patients, regardless of kidney or liver impairment."

That's because Tradjenta, uniquely among the DPP-4 drugs, is not expressed through the kidney but rather through the bile and gut – 95% of it, anyway. The drug was approved for use as a monotherapy or in combination with other commonly prescribed type 2 diabetes treatments – metformin, sulfonylurea or pioglitazone – and the companies are working on a linagliptin-plus-metformin combo that would go head to head with Merck's Janumet and is expected to file in the US and Europe this year. A pioglitazone combo is also in the works.

For the year to March, Januvia, which won FDA approval in October 2006, had pulled in $1.7 billion, while Onglyza, approved July 2009, had sales of $208 million, according to Wolters Kluwer Pharma Solutions data.

Boehringer's Wa'el Hashad, VP cardiovascular and metabolic, declined to give a sales forecast but said: "We are confident in Tradjenta's potential to compete effectively in the type 2 diabetes market." The drug will be marketed with a joint Lilly-Boehringer sales force targeting specialists and primary care physicians, said Hashad, who could not disclose numbers.

The drug is particularly important to Lilly, with looming patent expirations on its megablockbuster CNS drugs Zyprexa (2011 in the US) and Cymbalta (2014). Lilly brings two pipeline drugs to the partnership, announced in January – a novel basal analog insulin (LY2605541) and an insulin glargine product (LY2963016), while Boehringer has one other near-term candidate for diabetes, an SGLT-2 inhibitor in phase 3 (BI10773). That drug could launch as early as 2014, the companies have said. Boehringer also has the option of co-marketing Lilly's anti-TGF beta antibody, which is now in phase 2.
Scroll down to see the next article