March 07, 2008
Georgia Tech researchers aim to improve trials outcomes, boost Rx compliance with sensor necklace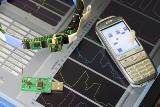 Researchers from the Georgia Institute of Technology (GIT) have devised an innovative medication monitoring device that could prove to be a useful tool for pharma researchers and marketers of the future.
Maysam Ghovanloo, assistant professor in GIT's School of Electrical and Computer Engineering, and graduate student Xueliang Huo, are the minds behind MagneTrace, a magnetic sensor necklace that can detect when specially designed medication passes through a patient's esophagus.

The date and time the patient swallows a special, magnetically enhanced, pill can be recorded on a handheld wireless device, such as a smartphone, carried on the user's body. That information can then be sent to the patient's doctor, caregiver or a family member over the Internet.

The GIT researchers hope their invention can aid other researchers and pharmaceutical companies conduct more accurate clinical trials of new drugs – trials where compliance is frequently determined by medication diaries kept by the patients.

"If each drug trial volunteer had to wear a MagneTrace necklace, the exact date, time and dose would be recorded, rather than relying on the patient's memory and honesty," Ghovanloo said in a statement.

MedTrace can also be used to keep patients compliant with their prescribed medicines, defraying rising healthcare costs, the GIT researchers said.

"Forgetfulness is a huge problem, especially among the elderly, but so is taking the medication at the wrong time, stopping too early or taking the wrong dose," Ghovanloo added. "Studies show that drug non-compliance costs the country billions of dollars each year as a result of re-hospitalization, complications, disease progression and even death."

Further details on the device were published in the December 2007 issue of the IEEE Sensors Journal.
Scroll down to see the next article