May 03, 2012
Germany rejects GSK's lupus drug Benlysta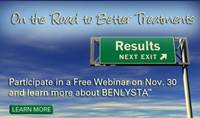 Things are looking dim for lupus drug Benlysta. The new drug, which reported $14.6 million in first-quarter US and European sales, has hit price walls in Europe, first with a rejection by the UK health authority April 2 and then Thursday, when Germany's health authority declined to bring it into its formulary. The drug, the result of a GSK-Human Genome Sciences partnership, was approved in 2011, and was first new lupus treatment in 50 years.
The rejection comes at a curious time for Human Genome Sciences, which
recently rebuffed
a GSK takeover offer and EVP/CFO David Southwell said in the first-quarter earnings announcement on April 24 that "Benlysta will continue to be our company's most important driver of growth for the next several years. Supporting its worldwide commercial progress and further development remain our most important financial priority."
The company's 2011 annual report also indicated a heavy dependence on Benlysta, with additional applications of the drug accounting for two of the eight pipeline developments it highlighted, and those additional applications were in Phase II clinical trials.
The rejections come just months after GSK and HGSI went all-out in marketing the drug in the US.
Neither GSK nor HGSI were able to comment by press time as to how Germany's rejection may affect how they approach countries in the future.
Scroll down to see the next article