April 14, 2014
Gilead and AbbVie HCV meds face off in hard-to-treat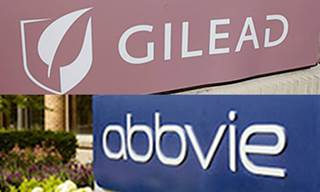 The 49th International Liver Congress in London this past weekend may have kicked off a new point of contention in the HCV landscape, as new data debuted from AbbVie's investigational combo regimen (ABT-450/ritovanir +ABT-267 and ABT-133) and Gilead's Sovaldi.
The data showed each treatment's effect in HCV patients with cirrhosis (scarring of the liver) thus far; Gilead's data also included two studies of patients with recurring and severe recurring HCV after a liver transplant.
In one of Gilead's two Phase-II trials, 21 out of 22 enrolled patients achieved "virologic suppression on treatment," or the drug lowered patients RNA count (the virus's genetic building blocks) after taking Sovaldi and ribavirin for 24 weeks. Gilead stated that it will "determine their SVR12 [or cure] rate, after 48 weeks of therapy."
The second reported trial, which evaluated patients with recurrent HCV after a liver transplant, saw 70% (28 out of 40) of patients enrolled achieve SVR12. The majority of patients had genotype 1 of the virus (GT1).
Gilead's last reported trial—a "compassionate access" study—among 104 post-transplant patients "who exhausted all other treatment options," according to the drugmaker, saw 62% of those patients achieve SVR12 with Sovaldi and ribavirin. Some patients also received peglayted interferon, Gilead noted.
AbbVie's Phase-III trial of GT1 patients with cirrhosis also saw strong results—and spanned hundreds of patients compared to the Gilead trial's smaller sample size.
AbbVie's overall data showed SVR12 rates of 91% (191 out of 208) over 12 weeks and 95.9% (165 out of 172) in patients over 24 weeks of therapy. When the results are broken out further, 90% (110 out of 122) of patients who were treatment-experienced achieved SVR12, while 94% of patients who were new to therapy (81 out of 86) achieved SVR12.
Scroll down to see the next article