September 07, 2011
Glaxo signage touts firm's drug-testing role in '12 Games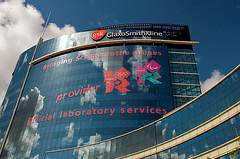 GlaxoSmithKline got help from British olympian Rebecca Romero in unfurling new signage at its London headquarters today.
Featuring the jagged "2012" logos for the upcoming Olympic and Paralympic Games in London along with the slogan "Bringing Science to the Games," the sign plays up Glaxo's commitment to keeping the events drug free.
"Millions of people will see it in the lead up to the Games and during Games time itself," said Glaxo CEO Andrew Witty.
Witty said the firm had wanted to celebrate its role as official lab services provider for the summer spectacle, during which the company will go for its own record.
GSK and King's College London will operate a World Anti-Doping Agency (WADA) accredited lab. Over the course of the event, the lab will oversee 6,250 drug tests—the most ever at an Olympic and Paralympic Games, Glaxo said.
Romero, who won a gold medal for England as a cyclist in the 2008 Beijing Summer Games after taking silver at the 2004 Games in Athens as a rower, was on-hand for the debut.
Sitting on the side of GSK's building next to two highways, the sign can be seen by people traveling into the capital from Heathrow and the West of England.
Hugh Robertson, UK minister for sport and the olympics, called GSK's drug-testing work "vital in enhancing the UK's reputation as a nation that is robust and effective in tackling drug cheats and sends out the clear message that doping in sport is something we simply will not tolerate."
Scroll down to see the next article