August 10, 2010
Good Health Media and Tynt target copy and paste keywords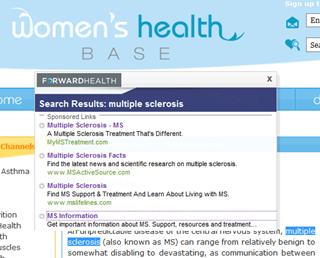 Visitors who copy and paste keywords on any of Good Health Media's 140 web properties will prompt a box of sponsored links, courtesy of Tynt Multimedia technology.
The program, called ConditionMatch, delivers context-relevant advertising – in the form of links and display ads – each time a visitor highlights a word and presses Ctrl+C (or selects "Copy" under the "Edit" file in the web browser).
After highlighting the word "multiple sclerosis" and pressing Ctrl+C at WomensHealthBase.com, for example, a box appears with links to Tysabri.com and MSActiveSource.com (both sites from Tysabri collaborators Biogen Idec and Elan), as well as MSlifelines.com (a Rebif branded site from EMD Serono and Pfizer) and Copaxone.com, from Teva.
Entire articles copied and pasted from a Good Health Media site will retain a link to the original article and webpage, regardless of where the text is pasted, be it in an email or on Facebook.
Bill Jennings, CEO at Good Health Media, said major pharmaceutical companies like Merck, Takeda, Bristol-Myers Squibb and Amgen are already on board with the new offering, which provides additional real estate for health publishers as well. Websites under the Good Health Media advertising network, which include consumer health sites as well as HCP portals like PracticeFusion.com, are typically "long-tail sites with condition-specific information," said Jennings, adding that the company continues to add new sites to the network.
According to Jennings, Good Health Media differs from other networks like WebMD or Everyday Health, in that it is "not a destination site," but a network of condition-specific websites, of which roughly 40 are maintained by the company. Citing comScore data from March 2010, Jennings said Good Health Media has overtaken both WebMD and Everyday Health in monthly unique visitors (UV), with over 37.7 million UVs per month. Calls to comScore for verification were not immediately returned.
Scroll down to see the next article