December 12, 2008
Grassley questions Prempro ghostwriting practices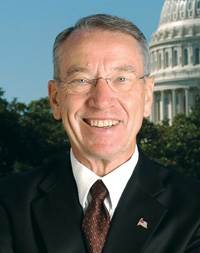 Sen. Chuck Grassley (R-IA) today sent letters to Wyeth and a third party regarding Prempro-related journal articles, and specifically the use of ghostwriters, the New York Times reported.
The letters request payment disclosures from Wyeth and DesignWrite, a medical writing firm, related to initial authorship and preparation of the Prempro journal articles, and the use of doctors whose names appeared on the articles.
The controversy stems in part from articles published before—and in at least one case, after—a national study linked Prempro and other hormone therapies to breast cancer and heart disease.
"Articles published in medical journals are widely read by practitioners, and relied upon as being unbiased and scientific in nature. Concerns have been raised, however, that some medical literature may be subtle advertisements rather than publications of independent research," Sen. Grassley wrote to Wyeth's chairman and chief executive, Bernard Poussot.
The issue of medical ghostwriting has been raised before, with the Journal of the American Medical Association pouncing on Merck's Vioxx clinical data and publishing practices last April. With both Vioxx and Prempro, questions about the authorship of published materials were the result of documents revealed in court filings and lawsuits.
Grassley describes the practice of medical ghostwriting as "companies that draft outlines and/or manuscripts of review articles, editorials, and/or research papers…then presented to prominent doctors and scientists…to review, edit, and sign on as authors, whether or not they are intimately familiar with the underlying data and relevant documentation," and finds this procedure "very troubling."
Sen. Grassley's letter to DesignWrite requested all manuscripts prepared for Wyeth since 1995, including payment information, authors involved, journals where articles were published and the names of any third parties hired by DesignWrite. Wyeth was also asked to provide the "extent of involvement/participation" of each doctor attributed with a published article, and a list of "all scientific manuscripts or reports prepared by each and every company, other than DesignWrite, on behalf of Wyeth for any Wyeth human drug," from Jan. 1, 2000, to the present.
Prempro contains warnings for cancer, heart attacks, strokes and blood clots on its label, but remains FDA-approved at low doses for severe symptoms of menopause.
Scroll down to see the next article