May 20, 2014
GSK drug fails in lymphoma bid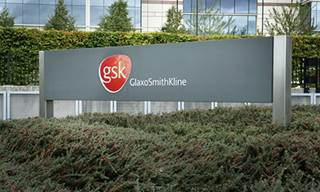 GlaxoSmithKline and partner Genmab are probably going to stop pursuing an indication for relapsed or refractory diffuse large B-cell lymphoma, known as DLBCL. The reason: failing to meet Phase-III targets.
The companies announced in a joint statement Tuesday that the ORCHARRD study comparing Arzerra plus chemotherapy to Rituxan plus chemo showed no statistically significant difference in progression-free survival. Arzerra is already approved for treating chronic lymphocytic leukemia (CLL).
The pharmaceutical partners noted that adverse events did not differ, either, but that there "were more dose interruptions and delays due to infusion reactions and increased serum creatinine" among the Arzerra patients than the Rituxan patients. Jefferies analyst Peter Welford wrote in a Tuesday analysis that the interruptions may have lessened the drug's impact.
Welford also indicates that the disappointing results with the GSK drug could point to a potential filing strategy for rival Roche, for whom Rituxan is a powerhouse. That is, if Roche's "son-of-Rituxan" drug Gazyva manages to best Rituxan in DLBCL, for which it is not yet indicated.
Such data could help Roche avoid being the victim of its own success, a problem which has somewhat hounded its cancer drug Avastin and wet-AMD/DME product Lucentis. Both work well, but Avastin is far cheaper. The company has used some highly criticized strategies to steer doctors toward pricier Lucentis in the wet-AMD setting, but Avastin remains a top-of-mind medication. A clear difference between Rituxan and Gazyva could help sidestep such messiness.
GSK said it will review the data to "add to our collective knowledge of the disease."
Scroll down to see the next article