January 05, 2011
GSK launches new Alli spots, hands five OTC brands to Meda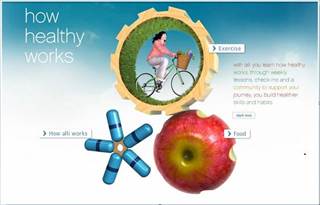 GlaxoSmithKline launched new commercials for Alli, in time for New Year's resolutions and holiday overeating remorse, and handed off five OTC products to Meda Pharmaceuticals.
The TV spots – a 30-second (Bread) and 15-second (Latte) spot – launched on December 27, according to Deborah Bolding, a GSK spokesperson, and were posted on Alli's YouTube channel this week. Both videos emphasize the OTC drug's ability to "block about 25% of the fat you eat," and the importance of healthy eating and exercise.
The spots, created by TBWA\Chiat\Day, are part of an integrated campaign built on Alli's "How Healthy Works" platform, and feature creative depicting three circular gears – an apple, a hamster-like exercise wheel, and a circle of Alli capsules – all turning in unison. The campaign includes national television, national print, shopper marketing, public relations and other unspecified digital components, Bolding said in an email.
Alli's label picked up additional risk information last May, when some users of orlistat (Alli's active ingredient) experienced severe liver injury. Roche's Xenical, a prescription strength dose of orlistat, also received a risk update to its label.
Separately, Meda Pharmaceuticals announced that it had acquired commercial rights to five OTC products from GSK's Advantage Brands portfolio: Contac Cold & Flu; Feosol and Palafer, both iron supplements; Geritol, a multi-vitamin; and Vivarin, a caffeine supplement. Meda will market all of the products, excepting Palafer, in the US, according to Jeff Cohen, VP, general manager, Meda Consumer Healthcare. Meda paid close to $60 million for the five products, according to separate company announcements.
Cohen said Meda is beginning transition plans with GSK, and won't finalize 2011 marketing plans for several weeks. "We also need to see what has been committed to retail customers already, given GSK's management of the brands," he said.
Scroll down to see the next article