August 19, 2014
GSK relaunches COPD.com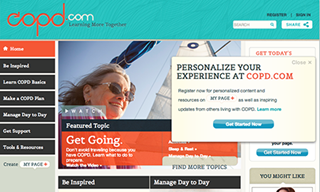 GlaxoSmithKline encouraged investors during its second-quarter earnings call to give the company some time to build momentum. The respiratory division was particularly hard hit (sales fell 14% during the quarter, 17% for the six-year mark), and as Bloomberg noted in June, new treatments Breo and Anoro have not swept the marketplace.
A refresh of its website COPD.com website appears to be asking patients what it asked investors — to give it a shot—albeit in an unbranded, indirect manner.
The new look includes a more direct approach to exploring the site through revisions such as replacing the Understanding," "Treating" and "Living" navigation bar with terms including "Be Inspired," "Learn COPD Basics" and "Make a COPD Plan."
It also includes what GSK's external communications director, Juan Carlos Molina, calls an effort to break the "dialogue barrier" that keeps patients from taking to their physicians, caregivers, friends and family about their lung disease. The key: the eight COPD patients and 40 bite-sized testimonials. GSK would not share the name of the agency that designed the site. [Update: GSK says Havas designed the site.]
Molina says the GSK team pre-relaunch research showed that first-person experiences really helped patients connect with the information. Like most unbranded sites the goal is to offer education and support. Molina says GSK's take on this was to use patients and language that "reflected the attitude of engagement with the disease," so they could "feel a desire to learn about it," and to provide clear, accessible information.
Scroll down to see the next article