January 20, 2010
GSK rolls out new Alli ads, study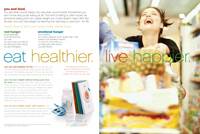 GlaxoSmithKline has revamped advertising for its OTC weight loss drug Alli to emphasize bad eating habits.
TV, print and online ads bearing the tagline "Eat Healthier, Live Happier" debuted in January, targeting women concerned about their weight. Elements of the consumer campaign are also being used in retail and promotions to healthcare professionals.
The campaign is the last work for the brand by Arnold, which lost the account to TBWA shortly after wrapping up work on it. New ads from TBWA will debut later this year.
The new ads coincide with the release of a survey exploring "America's unhealthy relationship with food." The survey found a disconnect between Americans' perceptions of their eating habits – 74% said they have a healthy relationship with food – and the fact that, by some estimates, two-thirds of Americans are overweight or obese.
"Our study showed that many Americans are engaging in mindless or emotional eating habits," said GSK VP, Alli Rachel Ferdinando in a statement. "That is, eating without thinking about nutritional value or portion size, or eating in response to feelings instead of to hunger. These unhealthy habits can lead to weight gain and are contributing to our burgeoning obesity crisis. It's time we look at our relationship with food through this lens so people can begin to understand why they overeat and learn healthier habits for life."
Edelman is handling PR on the study, which the company may incorporate into professional outreach.
GSK is also sponsoring a documentary film about eating, in partnership with the Creative Coalition. The company agreed to a hands-off role in the film's production, with full creative control in the hands of the non-profit Creative Coalition and the director and no guarantee that Alli will be mentioned. The GSK eating study will be the subject of a panel discussion featuring celebs at this month's Sundance film fest.
Alli launched in 2007 with a $150 million ad campaign and took lumps from analysts as sales slumped in 2008. At launch, GSK projected the brand could reach $1.5 billion in sales. Third-quarter global sales were around $80 million.
Scroll down to see the next article