July 23, 2014
GSK second-quarter sales disappoint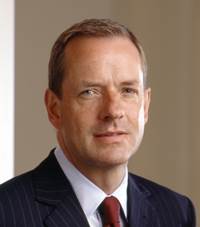 GlaxoSmithKline's second-quarter results have executives encouraging investors to focus on the long term. "What we need to be very clear about is making sure we're making the right decisions for the long-term future of the group and not simply for the short term," CEO Andrew Witty said in an interview recorded by the company.
CFO Simon Dingemans also talked about horizon opportunities in a GSK interview, saying that it "will take time to build" its primary care and respiratory businesses, and noting "we're not about building these products for the next quarter or two."
Results for the quarter, which Jefferies analyst Jeffrey Holford called "disappointing" in his Wednesday research note, indicate why GSK is taking the long view: sales fell 4% if looking at constant exchange rates (13% if not allowing for rate fluctuations), to almost $9.5 billion for the quarter. Sales for the first half of the year were down 3%, if keeping exchange rates constant, 12% if not, to almost $20 billion.
The company missed consensus expectations for the quarter and told investors it does not expect sales to grow in 2014.
Weak respiratory and consumer sales were significant factors in the firm's quarter and half-year numbers. Total US sales fell 12% for the quarter, to just shy of $3 billion compared to the same period last year. Pricing pressures helped drive the 14% drop in US respiratory sales compared to the same period last year, with Advair sales slipping 19% during the quarter compared to the same period last year, to $899.5 million. US respiratory sales for the first-half of the year were down 17%, compared to the same six-month period in 2013. The hit to Advair's half-year sales: a 24% drop, to almost $1.7 billion, compared to the same six months the year before.
Japan, whose sales for the quarter were 10% less than the same period last year, had similar category weaknesses, with respiratory sales falling 4%, to $161 million, compared to the same period last year. Half-year respiratory sales in Japan fell 4% compared to the same period last year, to $414 million.
Oncology sales hummed along during the quarter, increasing 39%, to $502 million, compared to the same period last year. This figure is largely dependent upon Votrient, for which the quarter's sales increased 41%, to $172 million, and Promacta, for which sales jumped 36% to $93 million. US oncology sales mimicked this pattern, rising 42% in the US to $202 million for the quarter, while Europe's oncology sales rose 39%, to $180 million during this same period.
Half-year oncology sales were up 33% overall, to $947 million, compared to the same period last year, with Votrient rising 36%, compared to the same six months in 2013, to $320 million.
A surprise for GSK, but not for Leerink's Seamus Fernandez, was Lovaza's performance. Tucked into the company's Established Products division, sales for the fish-oil drug plummeted 81% compared to the same period last year, to just under $46 million. Teva introduced a generic in April. CFO Dingemans said in the GSK-prepared interview that the heart drug's sales fell "harder and faster than we had originally expected." Fernandez said in his Wednesday research note that his firm had anticipated Lovaza's fall.
GlaxoSmithKline is also looking to regain momentum in the consumer space—the drugmaker noted that a recall of its OTC weight-loss drug alli and supply issues for products including its smoking-cessation items, have hampered the division's sales.
GSK is also in major adaptation mode: the company was part of a three-party asset swap earlier this year, which has GSK handing off its oncology division to Novartis in exchange for the Novartis vaccine business.
Leerink's Fernandez wrote in his Wednesday analysis that the vaccine portion of the GSK-Novartis deal has some good points to it. But it is respiratory's performance which has his attention. "Without a pick-up in switching to new respiratory portfolio products, we struggle to see a compelling value proposition in GSK particularly as competition is poised to intensify with new respiratory entrants... as well as the expected introduction of Advair generics in 2017," he wrote.
Scroll down to see the next article