November 18, 2013
GSK's Breo approved in Europe, COPD market may be underestimated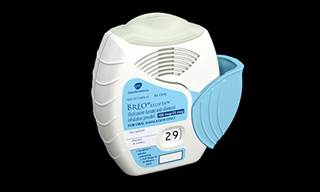 GlaxoSmithKline expanded its COPD reach in Europe. The company announced Monday that the European Medicines Agency Committee for Medicinal Products for Human Use—familiarly known as EMA CHMP—approved the company's Relvar Ellipta for chronic obstructive pulmonary disease (COPD) and asthma. The FDA approved this same drug in May under the name Breo Ellipta.
The market is an attractive one. GBI Research projected in October that the global COPD market is worth around $11.3 billion, and could hit $15.4 billion by 2019. Further, the drugs are hard to copy. Despite going generic, GlaxoSmithKline's Advair Diskus remains a strong competitor because the inhaler is difficult to replicate.
Boehringer Ingelheim VP of Respiratory Marketing Burcu Erylimaz told MM&M that her company—known in the COPD space where it co-markets Spiriva with Pfizer—is intent on deepening its respiratory presence in asthma and idiopathic pulmonary fibrosis, and that while inhalers can be difficult to duplicate, complexity is not the overriding factor when it comes to developing a delivery system. She notes, however, that "in general, inhaled drugs are not as vulnerable to being generalized as pills are."
US estimates put the COPD patient headcount at around 24 million, and the National Institutes of Health data indicates it is now the third leading cause of death in the US. Yet a recent NIH study shows that the patient pool may in fact be much larger. The US agency released a survey in November that showed that while the breath-taking condition is most commonly associated with smokers, 1 in 6 COPD patients are not current or even former smokers. The NIH also found that 26% of patients who have COPD symptoms, which include chronic cough, wheezing or shortness of breath—don't tell their doctors.
BI's patient research may explain some of the government's findings. Erylimaz says former smokers tend to feel "I did this to myself." BI's focus groups with asthma patients also show how patients cope with respiratory illnesses and avoid treatment. "It is very interesting to see that they kind of make their life smaller so they can make room for asthma and say 'I'm fine. My asthma is OK. Let's not take stairs, not play basketball.'"
The NIH's findings also show that it's not just patients who are ignoring COPD. Researchers said healthcare providers also missed opportunities to talk with patients about the condition, even if patients brought up symptoms.
Scroll down to see the next article