April 24, 2012
Harvard urges faculty to ditch journals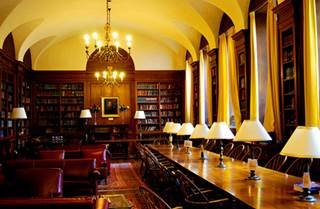 An email from Harvard University's Faculty Advisory Council over the cost of professional journals has touched off the latest round in the
Universities vs Publishers
sparring match.
In an email
distributed to faculty last week the council said publishers have "made the scholarly communication environment fiscally unsustainable and academically restrictive." The note says the university spends $3.8 million on journals every year, with some costing as much as $40,000. The council also says that the library is also hamstrung by costs associated with bundled purchases in which libraries buy collections of titles as opposed to individual ones, and that online access is not a fiscal solution, noting that two unnamed providers have increased online subscription fees at a rate that outpaces the consumer price index.
The council is urging faculty to submit articles to open-access journals or to journals with "reasonable, sustainable subscription costs" and counsels them to demand subscription contracts that can be made public, opt out of bundles and buy high-demand journals ala carte. The council is also pressing faculty to resign from the editorial boards of costly journals.
Harvard did not return calls by press time and did not identify any specific publishers. However, Elsevier and Nature Publishing Group told
MM&M
that they have good relationships with Harvard that offer flexibility.
"Libraries are never forced to take 'bundled' packages," said Tom Reller, a spokesperson for Elsevier. "They always have options to purchase individual articles, subscribe to titles or to sets of journals." Reller added that libraries benefit from large collections because they receive volume discounts and that "approximately 40% of researchers' usage is of journal titles that the library had previously not subscribed to."
Nature Publishing Group's Patrick Carpenter told
MM&M
that Harvard licenses its content through the
NorthEast Research Libraries Consortium
, which provides user licenses for a pool of 28 research centers, and that the Harvard and NPG have a good relationship. Carpenter said he is not aware of Harvard raising any price concerns with NPG. He also said bundling isn't an issue for consortium members, because they "do not have forced bundles." He added that if NERL offers bundles it also provides an ala carte option.
Tensions between academia and publishers have been brewing for some time, as evidenced by the recent dust-up between Elsevier and Cambridge University professor Timothy Gowers.
His protest
against the publisher now has over 10,000 supporters who have vowed to withhold services. NPG was the target of a protest just two years ago, when the University of California system threatened a boycott with subscription rates set to jump 400%.
Scroll down to see the next article