January 07, 2009
HealthCentral visitors more likely to request scripts from docs: Manhattan Research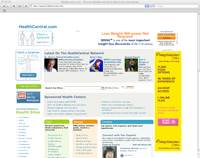 Visitors to the HealthCentral network of websites were more likely to request prescription drugs from their physicians than were visitors to competing sites, such as WebMD and Everyday Health, a Manhattan Research study found.
The study, which surveyed 8,714 adults in US, found that 91% of HealthCentral network's audience had chronic conditions, and 85% were searching for pharmaceutical information online in the last 12 months.
According to Jeremy Shane, president and COO at HealthCentral, the network is "bringing in consumers at a decision point, who are entering two, three, four or five key word strings" into a search field. "The [HealthCentral] websites are driven by expert patients," said Shane. "Visitors are highly targeted through organic search results, and are ready to act and manage their diseases."
HealthCentral utilizes the language used by patients themselves, notes Shane, offering as an example a 37-post discussion between two women with rheumatoid arthritis. The women discussed how to manage daily activities, and also what meds they used, according to Shane. "We leverage the quality traffic we have and deliver specific messages," he said.
The HealthCentral network property had "2.5 million unique visitors in November 2008, but the entire entity (which likely includes partner sites) had 9.1 million," according to Andrea Vollman, senior marketing analyst at comScore.
Over 30 websites are listed as members of the HealthCentral Network, each of which deals with a specific health condition. According to HealthCentral figures, ADHDCentral.com, a network site, grew by 330 percent in year-over-year page views, with a 315 percent growth in visits, from October 2007 to October 2008.
Christopher Schroeder, HealthCentral's CEO since 2005, was previously CEO and publisher of washingtonpost.newsweek interative, which hosts washingtonpost.com and newsweek.msnbc.com, among other sites.
Scroll down to see the next article