November 06, 2013
HIV/AIDS site makes healthcare reform personal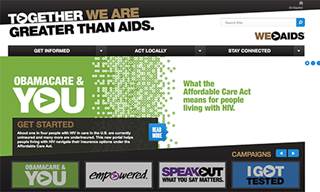 While the main storylines surrounding healthcare reform have been about disastrous website experience, the non-profit Kaiser Family Foundation has honed in on a different angle: a portal that walks HIV positive patients and their caregivers through their options.
While the idea—understanding how healthcare reform affects individuals—may not sound new, the disease-specific optic is unique.
KFF Senior VP, Director of Health Communications Tina Hoff told MM&M that while Gilead funded the site, which is part of the ongoing Kaiser-Black AIDS Institute's education effort Greater Than AIDS, the drugmaker's role was limited to funding, and that Kaiser was in charge of the content and its development.
Hoff noted that HIV and AIDS patients are more likely to be un- and under-insured, and that healthcare reform's ban on lifetime spending limits, as well ending the ability to use pre-existing conditions to deny coverage, are of particular importance for patients trying to manage their chronic disease.
The website's approach is a personal one, and helps visitors explore general questions about the Affordable Care Act. It also provides tools including a guide to HIV-specific benefits under healthcare reform and information about how healthcare reform may affect benefits under programs such the AIDS Drug Assistance Program (ADAP) or Ryan White HIV/AIDS program.
Hoff said the foundation is tapping into its broad social network, as well as the networks of its peers to share information about the site. Its community toolkit encourages linking to the resource, and provides plug-and-play promotion information, such as the suggested Tweet "What does #Obamacare mean for people living with HIV? Find out @GreaterThanAIDS #ObamacareAndYou" and embeddable banner ads that link to the Greater Than AIDS site.
Hoff said Kaiser started developing the site this summer, but noted that the foundation has over two years of healthcare reform information to tap into. She said that the foundation has already started receiving feedback and that the site will continue to evolve "as we get more information about how the system works and what the needs are for our audience."
Scroll down to see the next article