December 05, 2011
How Genentech cut journal ads across all Avastin indications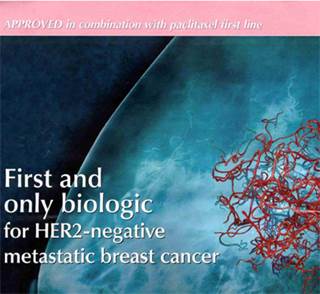 Well before the FDA revoked Avastin's (bevacizumab) approval in breast cancer, Roche's Genentech unit deeply cut the professional media plan for the drug, the company said.
FDA commissioner Margaret Hamburg's final decision to rescind the indication for metastatic breast cancer came this past November. Ad spending in support of the brand had dropped precipitously more than a year earlier.
"We ceased all promotion of Avastin for breast cancer in August 2010, including journal ads," said Charlotte Arnold, Genentech spokeswoman. "In 2011, we also significantly cut back our spend on journal advertisement for Avastin across all the cancer types it's approved for."
Avastin remains approved for advanced colorectal, lung, kidney and brain cancer. Across those tumor types, Genentech spent $611,000 on professional journal advertising for the first nine months of 2011. According to figures from IMS Health, that was down from $2.2 million for all of 2010.
"There was a definite change in advertising patterns at the close of 2010 and beginning of 2011," observed Jerry Maynor, US marketing and business development director, Cegedim Strategic Data. "Avastin had been advertising most months in all of the oncology journals that we audit; that dropped to half of the journals in the spring. Monthly same-journal spending fell as well."
Maynor said he detected no DTC media spend for 2011.
The FDA first moved to pull the indication a year ago, saying that new studies didn't confirm that the drug was helping patients. That followed an advisory committee meeting in July 2010 and panel vote to recommend rescinding the approval in breast cancer. On the heels of that meeting, Genentech agreed with the FDA to stop promoting Avastin for breast cancer, Arnold said.
While Genentech appealed the FDA's decision a year ago, and Hamburg recently encouraged the company "to consider additional studies to identify if there are select subgroups of women suffering from breast cancer who might benefit from [Avastin]," Genentech has no plans to appeal this time around, Arnold said.
Scroll down to see the next article