November 05, 2009
In DTC TV, longer doesn't have to mean less memorable, says Nielsen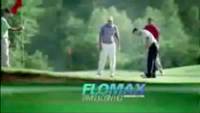 Prescription drug advertisers are running longer broadcast spots to accommodate more expansive fair balance statements, a Nielsen IAG analysis suggests, as 75-second spots proliferate.

That's not necessarily bad news for pharma firms, said Nielsen healthcare practice SVP Fariba Zamaniyan, noting that several 75-second spots made the firm's "Most recalled" list.

"This ranking shows that it doesn't necessarily mean people are going to tune it out," said Zamaniyan. "It always comes down to the creative."

Ads for Boehringer Ingelheim's Flomax BPH treatment were the most-recalled spots for the 2008-2009 TV season, according to Nielsen.

The 45- and 60-second ads, which show men at a baseball game and on a golf course frequenting bathrooms as an announcer lists symptoms of urinary incontinence due to BPH, benefited from standout, relevant and consistent visuals, said Zamaniyan.

Tied for second place in the ranking were 60-second spots for Lilly's "What are you waiting for?" Cialis effort and Merck's "One less" campaign for Gardasil. Rounding out the top five were spots for Wyeth's Pristiq (:75), Bristol- Myers Squibb/Sanofi-Aventis' Plavix (:60 and :75), and BMS's Orencia (:75).

The list pours cold water on the notion that treatments for symptomatic conditions are advantaged over those for asymptomatic ones when it comes to consumer advertising, said Zamaniyan, pointing to memorable spots for Plavix and Gardasil.

"There's this perception out there that because you don't have packaging, you need symptoms to make advertising more tangible, to give the viewer something to see and feel and relate to," said Zamaniyan. "This dispels the myth that you have to have a disease state with visible symptoms in order to have memorable advertising."

The online survey draws from a pool of 6,000 daily respondents.



Scroll down to see the next article