May 08, 2013
J&J consolidates, rebrands Ethicon units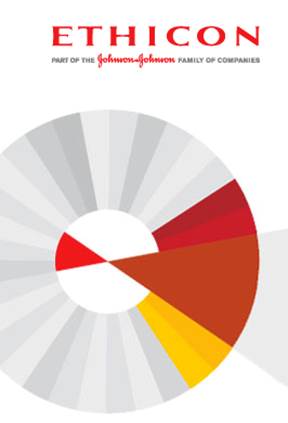 J&J's motley, intersecting corporate family tree and decentralized structure are legendary in an industry whose mantra is "focus." It seems to work for them. But in one small corner of its sprawling empire – its Ethicon surgical products business – the company is consolidating brands to present a single face to physicians and health systems.
The rebrand reunites Ethicon Inc., which makes surgical sutures and wound closure devices, with Ethicon Endo-Surgery, a manufacturer of medical devices and surgical implements specializing in minimally-invasive surgery, which was spun off in 1992.
"We believe that by unifying these two iconic brands, we can fulfill this promise of delivering innovation and create a better experience for our customers by enabling a simpler and more productive way of working with us," said VP, global strategic marketing Laura Angelini.
A unified sales force will field around 600 reps in the US.
Consolidation in the healthcare industry is a large part of why J&J is bringing the two Ethicon units back together.
"The US market is going through a lot of changes, with consolidation, vertical-ization and integration," said Angelini. "The purchasing models are changing, becoming more and more concentrated in the hands of a few purchasing groups, and these people really demand a different interaction with suppliers and partners. This gives them access to our portfolio in a way that is simplified, easier for them to deal with, and really enables the partnership with the key accounts and institutions that we want to establish."
The company and its branding agency decided to hold on to the Ethicon name, which has accrued 80 years' worth of brand equity. Customers associate Ethicon with partnership, trust and equity, said Angelini. They identified a "brand promise:" "Better surgery for a better world." Fulfilling that, she said, rests on three pillars: continued innovation and delivery of market-appropriate products, improved access to care globally, and good works by employees and the company.
Ethicon also adopted a new logo and visual template featuring a colorful spectrum representing "the optimism of better surgery and also the variety of the markets and conditions we deal with," said Angelini. A red arrow represents "the ability of the company, which is by far the biggest medical device company in the world, to provide focus and attention and serve the needs of the customers and the patients."
The company launched the new brand identity internally at the beginning of the year.
"Our people are the expression of our brand with our customers," said Angelini. "The medical device business is such that our sales reps and commercial people around the world have a very direct connection with our customers, both surgeons and other stakeholders."
In the US, the brand debuted at the April Society of American Gastrointestinal and Endoscopic Surgeons annual meeting in Baltimore, where the company fielded a booth touting its work with cleft palate charity Operation Smile. It will roll out globally over the next few months.
Scroll down to see the next article