June 16, 2010
J&J uses web video, teacher outreach in UK ADHD effort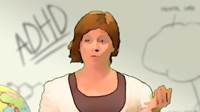 Johnson & Johnson's Janssen-Cilag launched an animated patient education video aimed at showing viewers the world from the perspective of a child with ADHD and urging parents to see a doctor about behavioral problems.
The film is part of an unbranded UK campaign including outreach to teachers and is featured on Livingwithadhd.co.uk. The film employs a technique called "rotoscoping," in which real actors are filmed and converted into animations, and was developed through interviews with patients, parents, doctors and teachers. It visually depicts the child's attention drifting and explores the guilt that parents of children with ADHD often feel.
It's meant encourage parents to take the initial step of seeing a doctor about their child's behavioral problems – a step that research shows gives parents great satisfaction, the company said, either for relief that a diagnosis has been made or for reassurance at having spoken to a professional.
"It might be that certain teachers currently have children with ADHD in their classrooms but that haven't yet realized it or are struggling to cope," said ADHD educational advisor Holly Evans in a release. "If improved understanding and knowledge about ADHD can filter down to at least a small proporation of the teaching population, it will make a big impact."
The J&J unit makes Concerta XL for ADHD.
Scroll down to see the next article