December 19, 2013
Kalydeco misses trial endpoint, though some benefit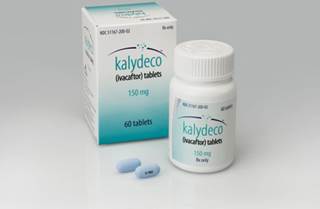 Reporting on results from a late-stage trial, Vertex said today that Kalydeco (ivacaftor) failed to meet its primary endpoint—significant improvement in lung function from baseline—among a subset of patients with the rare disease cystic fibrosis (CF).
The trial was designed to make a case for expanding the drug into patients with the gene mutation R117H, which accounts for 1,100 worldwide patients, according to ISI Group analyst Mark Schoenebaum. It's already approved to treat those with a different gene mutation.
While Kalydeco CF patients 6 and older with the R117H mutation did not show a significant improvement in lung function, patients 18 and over with more advanced disease did. That positive data will be discussed with regulators early next year as a potential sNDA, the company said.
"While we are disappointed that the study in people with the R117H mutation did not meet its primary endpoint, we are encouraged by the significant improvements in lung function and other measures of CF observed in the subset of patients ages 18 and older who had established lung disease," Robert Kauffman, MD, PhD, SVP and chief medical officer at Vertex, said in a statement. "We look forward to meeting with the FDA early next year to discuss these data with the goal of bringing ivacaftor to additional people with CF who may benefit from treatment."
Other Phase III trials are testing Kalydeco in F508del mutations, which account for 66%-70% of worldwide CF patients, the analyst said. Results from these trials, called TRAFFIC and TRANSPORT, are expected to be released in 2014.
Scroll down to see the next article