August 09, 2012
Komen announces executive shakeup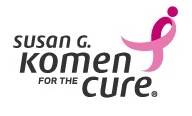 Six months after a firestorm over its decision to pull funding from Planned Parenthood, the Susan G. Komen for the Cure Foundation is bracing for another shakeup.
The breast cancer research organization announced Thursday a package of changes that will reshuffle the executive suite and board of directors. It's looking for a new president to replace Liz Thompson, who is leaving her post September 7. Thompson became president in 2010 and has been with the organization since 2008.
Founder and CEO
Nancy Brinker
will fill in until the foundation finds a replacement for Thompson, but Brinker is also stepping back and will chair the executive committee to focus on growth and strategy once a new president is in place. Board members Brenda Lauderback and Linda Law are also leaving.
The foundation has 120 affiliates in the US and three abroad, and claims its investments have helped reduce breast cancer deaths by 33% since 1991. Yet its strategy has come under scrutiny for several reasons, beyond its now-retracted decision to yank financial support for breast cancer services from Planned Parenthood, after Florida Rep. Cliff Stearns opened up an investigation of the non-profit. Stearns said he wanted to make sure no federal funds were going toward abortions.
One long-held critique has been what's come to be called Pink Washing -- enveloping products in Komen's pink ribbon or in pink packaging, with a pledge that money will go toward breast cancer research. The percentage of sales that goes toward that cause is not consistent, and advocacy groups including Breast Cancer Action have urged consumers to think about what pink-ribbon products they buy and the companies that produce them. The group even went so far as to create the site ThinkBeforeYouPink.org, whose targets have included Yoplait's pink-lidded yogurt and a partnership between KFC and Komen that involved a promotion called "Buckets for the Cure."
The foundation has come under attack even more recently. Authors of an August 2 op-ed in the
BMJ
seized on a claim in
Komen ads
that early detection of breast cancer leads to a 98% survival rate of five years. "Imagine a group of 100 women who received diagnoses of breast cancer because they felt a lump at age 67, all of whom die at age 70. Five-year survival for this group is 0%," the authors note, before providing the following scenario: if the women were screened three years earlier, when they were 64 and still die when they turn 70, "five-year survival is now 100%, even though no one lived a second longer."
Scroll down to see the next article