August 26, 2013
Kyprolis growth prospects at center of Amgen-Onyx deal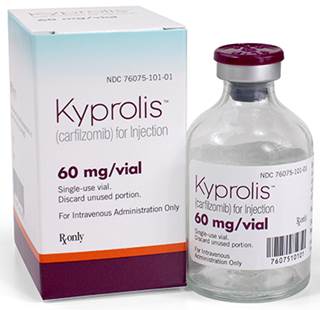 At the center of Amgen's historic, $10.4-billion purchase of Onyx, announced Sunday, was a desire to go deeper in oncology, but success may hinge on whether the biotech giant can realize the full potential of one cancer drug in particular, blockbuster hopeful Kyprolis.
Amgen CEO Robert Bradway highlighted his firm's oncology aspirations when, as part of the announcement, he talked up his company's "unique opportunity to add value to Kyprolis (carfilzomib), a product which is at an early and promising stage of its launch."
The drug won approval a year ago as a third-line defense for multiple myeloma, a form of blood cancer. For the first half of 2013, Kyprolis generated sales of $134 million, despite competition from two entrenched myeloma products, Celgene's Revlimid and Takeda's Velcade, as well as from Celgene's follow-on launch drug, Pomalyst, approved in February.
Jefferies analyst Eun Yang, in an investor note Monday, forecast Kyprolis 2014 global revenue of $1.2 billion, eventually hitting $1.7 billion by 2018. And a group of analysts polled by Bloomberg estimated the drug, whose US patent expires in 2025, may bring in more than $3 billion in revenue by 2021—revenue that could help Amgen compensate for upcoming patent losses in its anemia franchise.
Clearly, Kyprolis was the belle of the ball in the Onyx purchase, but whether it stands to grow from Amgen's commercial capabilities is an open question. The company's oncology sales force has posted mixed results: US sales of bone cancer drug Xgeva rose by 85% last year to $663 million, according to IMS Health, while sales of older prostate-cancer drug Vectibix were largely flat year-on-year.
Bradway's ability to make good on his Kyprolis promise and expand the drug's market share may depend more on the result of clinical trials seeking to expand its label to earlier lines of therapy. Four Phase III trials are under way.
Two trials—CLARION and ENDEAVOR—seek to assess the combo of Kyprolis and Velcade. CLARION will test the pair, along with chemo and prednisone, in newly diagnosed patients who are ineligible for transplant. ENDEAVOR will assess survival in relapsed patients when the Kyprolis-Velcade duo is paired with dexamethasone—another corticosteroid. Both are currently enrolling patients. CLARION is expected to finish in 2016, while ENDEAVOR's completion date is 2015.
The two other late-stage trials, FOCUS and ASPIRE, seek to substantiate Kyprolis's bid for approval in Europe in 2014. Velcade comes off patent in the US in 2017, and 2019 in the EU.
Onyx's price tag makes it the biggest pharma acquisition since Gilead's pick-up of Pharmasset for $10.8 billion in November 2011.The buy-out comes after Bloomberg reported that talks had stalled last week when Onyx refused to hand over additional clinical trial data. ISI Analyst Mark Schoenebaum cited it as a possible explanation for the price falling from $130 a share to $125.
Yang, the Jefferies analyst, heralded the buy as "positive" and "complementary for Amgen's hematology/oncology franchise," which he says accounts for 50% of the company's revenue. Kyprolis is not all that was gained. Onyx also has three standing royalty agreements for two already approved oncology drugs, Nexavar and Stivarga (both co-marketed with Bayer) and for one drug in development, palbociclib (being co-developed with Pfizer).
Nexavar, a treatment for kidney cancer, delivered sales of $143 million for the first six months of 2013—up from $132 million in the same time frame last year. Revenue from the collaboration agreement was $81.8 million and $152.1 million for the three months and six months ended June 30, 2013, respectively, compared to $72.7 million and $144.7 million for the same periods in the prior year, Onyx said.
Stivarga—approved for metastatic colorectal cancer by FDA in September 2012 and just launched in Japan a week ago—delivered $20 million in royalties in 1H 2013. Onyx will receive up to 8% of future net sales of Pfizer's breast cancer compound, palbociclib, if approved.
Even with those other in-line products, one blogger believes Amgen only sees value in Kyprolis, and little else from Onyx—even its employees. Derek Lowe wrote in a brief note this morning: "Amgen isn't buying Onyx for their research staff, or any of the people at all…Kyprolis is all they need from Onyx, who bought the compound anyway when they acquired Proteolix a few years ago."
Scroll down to see the next article