January 30, 2009
Lilly pres Deirdre Connelly defects to GSK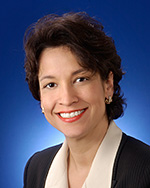 In joint company statements today, GlaxoSmithKline and Lilly announced that Deirdre Connelly has resigned as president of US operations at Lilly, to become president, North American pharmaceuticals, at GlaxoSmithKline. Connelly will begin her new role at GSK on February 9, 2009.
In the statement, GSK CEO Andrew Witty said Connelly is "somebody who truly understands the needs of patients and our customers and can drive the efforts we are making to reshape this business and improve future growth." Connelly had led Lilly's US operations since 2005.
Lilly, in turn, promoted Enrique Conterno, currently senior vice president of healthcare professional markets, to president, effective immediately. Conterno will report to Bryce Carmine, EVP of global marketing and sales.
Conterno "understands the complexities of the US marketplace, he has stressed the need to accelerate the transformation that is under way at this company, and he is focused on the needs of the patients we serve," said John Lechleiter, Lilly's chairman, president and CEO, in a statement.
Scroll down to see the next article