October 03, 2013
Lilly primes investors for possible cuts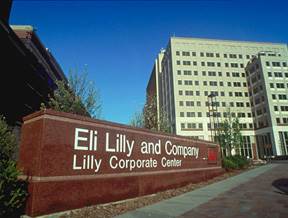 The salary freeze announced by Eli Lilly in July just got chillier. Thursday, prior to its investor meeting, the company announced that the path to hitting its $20-billion 2014 revenue goal will require cost-cutting and efficiencies, not just pipeline success.
The Indianapolis, IN, drug maker's plan of attack sounds somewhat similar to that of Merck, which said Monday that 8,500 jobs were being axed as part of what it called an enhanced focus on marketable products that could carry some financial heft. In Merck's case, this means vaccines, oncology, diabetes and acute care in the company. In Lilly's scenario, this means diabetes, oncology, emerging markets and animal health (note: Merck also told investors Monday that it was committed to emerging markets).
Lilly has already dug into trimming costs, noting in its second-quarter results that marketing and SG&A costs shrunk 3% from the same period the year before to $1.87 billion, and by 7% for the first six months of 2013 compared to 2012, to $3.52 billion. The company's almost $6 billion in second-quarter sales rose 6%, driven partly by higher prices. Second-quarter US revenues were up 13% compared to the same period last year, due to higher prices.
Recent and impending patent losses are increasing dependence on the corporate pipeline. US and EU protections of its diabetes medication Humalog have already lapsed, and the company is set to lose US exclusivity for its depression medication Cymbalta in December, followed by its EU patent loss in August 2014. Osteoporosis medication Evista goes off patent in 2014 in the US and 2015 in the EU, and a slate of cancer medications begins to tip into patent-free territory as of 2017 (2015 in the EU).
Lilly said its financial bedrock for 2014 and beyond includes diabetes medication Tradjenta as well as pipeline medications including SGLT2 empagliflozin and GLP-1 dulaglutide, additions which could give Lilly a portfolio that overlaps offerings from competitors including Merck, Novo Nordisk, Bristol-Myers Squibb, Sanofi, GlaxoSmithKline and Johnson & Johnson by providing at least one product in orals, GLP-1s and insulins. Empagliflozin and dulaglutide are future bets, and Lilly's announcement positions diabetes as "an attractive base business anchored by Lilly's insulin franchise and Tradjenta with partner Boehringer Ingelheim."
Noise around the company's oncology profile currently surrounds its experimental drug ramucirumab, which the company picked up from ImClone five years ago. Results have been mixed: Lilly announced last month that the drug failed to hit its breast cancer targets, but that the drug improved progression-free and overall survival rates among advanced gastric cancer patients when paired with chemotherapy. The gastric cancer readout boosted 2012 data which accounted for ramucirumab-only vs. placebo.
Bernstein analyst Tim Anderson wrote at the time that this later data addressed concerns surrounding the single-agent results, although he and other investors had already forecast money from a gastric cancer indication when considering the company's pipeline values. He also noted that a gastric cancer indication would not do anything to eat away at Roche's Avastin market share, because it's a no-compete situation, since Avastin does not have this indication. The older medication does, however, have an indication in other areas Lilly's chasing, including lung cancer and colorectal cancer, segments Anderson says are much larger opportunities. In this theoretical run-off, the analyst says Lilly's ramucirumab could have a slight edge because it binds to vascular endothelial growth factor receptors, as opposed to ligands and "therefore should block all VEGF ligands."
Assuming all goes a scheduled, Lilly could build up its revenue streams beginning next year: the company said it could launch empagliflozin, dulaglutide and ramucirumab if the FDA gives the all-clear.
As noted by ISI Group analyst Mark Schoenebaum in his reaction to this morning's announcement, there are many ifs, writing "we would like to understand...if a 'Plan B' exists, i.e. if the pipeline does not perform as management currently expects?"
Scroll down to see the next article