April 24, 2014
Lilly Q1 sales dip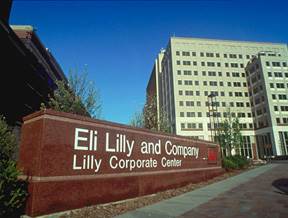 Despite a salary freeze and a January assertion that 2014 would not be a "trough year" for Eli Lilly, the company's first quarter results just missed expectations.
Sales fell 16% for the quarter, compared to the same period last year, with particular weakness seen by mood medication Cymbalta (down 64%) and bone drug Evista (down 38%). US sales fell 34% during the quarter, largely due to lower demand for Cymbalta, which went generic in December, and lower prices. Evista's patent lapsed last month.
Lilly attributed some of the falloff to draw-down of inventory levels. The drugmaker also pared back on expenses, such as marketing, selling and administration, which fell 14% compared to the same period last year. The drop synched with the company's marketing pullback on Cymbalta and Evista.
Sales for diabetes drug Humalog, ED pill Cialis and osteoporosis shot Forteo crept upward through a combination of increased demand or higher prices. The company noted in January that these three drugs were going to be key to carrying Lilly through 2014.
"Overall not a great quarter, but we doubt most shareholders will care," ISI Group analyst Mark Schoenebaum wrote in a Thursday pre-cap. Schoenebaum explained that recent successes, including this week's FDA approval of gastric cancer medication Cyramza (ramucirumab)—which Lilly told investors will be available within weeks—along with corporate reassurance that margins will improve over the next half decade "regardless of pipeline success," should mollify investors.
This year's milestones include the anticipated release of Phase-III Cyramza data as a second-line treatment among non-small cell lung cancer patients in tandem with chemotherapy; kicking off Phase-III tests of CDK 4/6 inhibitor bemaciclib (a potential foe of Pfizer's palbociclib); and progress for its BI/Lilly SGLT-2 diabetes medication empagliflozen which has run into a CRL from the FDA but which is making its way through the European Medicines Agency.
All of this is in addition to Lilly's hopes for an experimental GLP-1 med, dulaglutide, whose PDUFA date is set to close out the summer season, or open up the fall. ISI Group's Schoenebaum estimated in February that the potential peer to Novo Nordisk's Victoza could capture a third of the $3 billion GLP market, and that is without showing superiority over Victoza.
Bolstering the positive outlook is also the company's expected price for just-approved Cyramza, which Lilly says should cost around $24,480 per patient for a four-infusion cycle.
Scroll down to see the next article