April 08, 2014
Lilly's CDK 4/6 inhibitor a cancer contender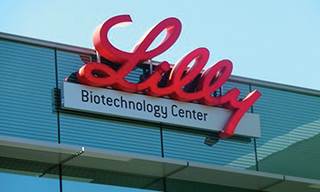 While Pfizer's experimental breast cancer drug palbociclib dominated the lead-in to the week, Eli Lilly, which also presented data at the American Association for Cancer Research meeting in San Diego, is now getting some attention.
In this case, it is Lilly's experimental CDK 4/6 inhibitor, known both as LY2835210 and bemaciclib, which Lilly says is pronounced beh-me-sye' klib.
The pipeline therapy is intended for metastatic breast cancer, and one which Leerink analyst Seamus Fernandez indicated support for in his Monday research note. The analyst said Lilly's contender had a "manageable adverse event profile," and that the results indicate that the drug not only has a competitive profile in the breast cancer space, but that the results indicate CDK 4/6 inhibitors will have a role in future breast cancer treatments.
The Phase-I results were among patients receiving LY2835219 as a standalone therapy and showed an overall response rate of 25% among hormone receptor positive patients, 9.1 months of progression-free survival (PFS) and neutropenia in around 11% of patients.
Pfizer also presented monotherapy results from an earlier study in which metastatic breast cancer patients received palbociclib. This study showed an overall response rate of 10% among hormone receptor positive patients, with a PFS of 3.8 months and neutropenia among 46% of patients.
ISI Group analyst Mark Schoenebaum cautioned in a Sunday report that while early data appear to give Lilly an edge "you must be very careful when comparing across different trials with small patient numbers."
Fernandez encouraged similar caution, but noted that "the outlook remains positive for LY2835219 given higher suggested efficacy across a number of response rate metrics" and that key opinion leaders were "clear in [their] support of both LLY and PFE's agents and confidence in the class, which also includes [Novartis]."
This latter statement underlines a going theme in the field, which is that although Pfizer's palbociclib garners a lot of media noise, the drugmaker should not expect to lock up the field. Lilly's contender, for example, offers continuous dosing, which it has touted as an advantage over other treatments.
Fernandez projects that Lilly could earn around $650 million in peak 2026 sales "with meaningful upside potential," depending on future combination trials and indications beyond breast cancer.
Scroll down to see the next article