August 27, 2012
Lilly's Effient fails to edge out generic Plavix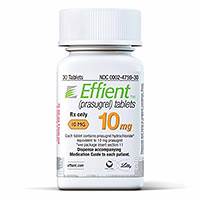 Eli Lilly logged in
another "meh" result
Monday, announcing that its anti-clotting drug Effient (prasugrel) was as effective, not better, than the recently genericized Plavix (clopidogrel) among patients with acute coronary syndrome who have not had stents implanted or undergone bypass surgery.
The clinical trial, which paired both prasugrel and clopidogrel with aspirin among more than 9,000 patients, was designed as a head-to-head to give Lilly a chance to gain an edge over its generic rival.
Although the study focused on results within a 12-month period, the company noted that results diverged after the one-year mark, and that Effient patients had a lower risk of heart attack, stroke and death, compared with clopidogrel patients.
Competition in the anti-platelet space has been heated, particularly since the leader, Bristol-Myers Squibb/Sanofi's Plavix, went generic in May 2012. Since then, contenders such as AstraZeneca's Brilinta and Lilly's Effient have tried to position themselves as successors.
Plavix rivals have been using a variety of messaging strategies
that either go after Plavix directly or seek to position themselves as better options by picking off rivals' attributes.
It's clear why Plavix has been the anti-platelet benchmark -- the drug brought in $27.2 billion in US sales over the past five years. Since launching three years ago, Effient's sales have been been slowly climbing. The drug helped power Lilly's 5% growth in sales last year -- along with growth from antidepressant Cymbalta, cancer drug Alimta and erectile dysfunction product Cialis -- by contributing $302.5 million in sales. This is up from $115 million in 2010 and $27 million in 2009.
The trend has continued into this year, with sales nearing $227 million for the first six months of 2012, a 77% increase over the same period last year. Lilly attributed the rise in its second quarter earnings report to "increased demand, and, to a lesser extent, higher prices."
Despite Friday's announcement that its Alzheimer's drug solanezumab failed to meet the main targets of its Phase III studies, and the earlier news that an experimental schizophrenia drug had been a disappointment, the company eked out one recent win -- a US Court of Appeals sided with Lilly Friday in a lawsuit over its lung cancer drug Alimta. The ruling against Teva locks in patent protection for the brand until January 2017.
The ruling gives Lilly a bit of breathing room, in that it has to worry less about immediately losing exclusivity over a drug that accounted for 10%, or $2.46 billion, of the company's 2011 revenues. It also narrows Lilly's more immediate patent concerns to include Cymbalta, whose $4.16 billion in 2011 sales accounted for 17% of total revenues, and the diabetes medication Humalog, which accounted for 10% of total sales, at $2.37 billion last year, as both those brands edge closer to their 2013 patent expiration dates.
Scroll down to see the next article