April 16, 2008
Lilly's Lechleiter eliminates manufacturing posts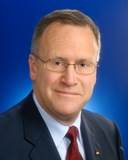 In his first major move as CEO, Eli Lilly's John Lechleiter today announced plans to cut 500 manufacturing jobs at sites near the company's Indianapolis headquarters.

The manufacturing sites focused on production of ingredients for insulin products Humulin and Humalog and osteoporosis treatment Forteo. While most of the cuts are planned for manufacturing, some will come from R&D, Lilly said.

"For several years we have focused on strategic efforts to lower costs, increase flexibility and improve productivity across the business," Lechleiter said in a statement. "This strategy calls for reducing investments in some areas while increasing investments in others, and the streamlining decisions announced today are an example of this."

Lechlieter stepped into the CEO role at Lilly on April 1, replacing Sidney Taurel who retired at the end of March.

Lilly has cut its global employment, mostly through attrition, by about 12% since the middle of 2004 and now has approximately 5,500 workers.

The job cuts follow Lilly's decision last month to scrap development of its inhaled insulin device dubbed AIR. 

A late-stage trial of AIR was slated to wrap in time for NDA submission of the product in 2009.


Scroll down to see the next article