October 03, 2008
Look out WebMD: Waterfront Media to merge with Revolution Health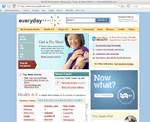 Online health companies Waterfront Media and Revolution Health Network announced a merger October 3.  Terms of the deal were not disclosed.
The merger will incorporate all of Revolution Health Network's websites – including RevolutionHealth.com, HealthTalk.com, CarePages.com and others – into the Everyday Health Network, Waterfront Media's flagship property and operational title.
Benjamin Wolin, Waterfront Media CEO and co-founder, told MM&M that the Revolution Health brand "will be left intact…and remain a stand-alone entity" for now, adding that Revolution Health will maintain its Washington, DC, office.
Wolin will remain CEO of the new company, which will keep the name Waterfront Media. Steve Case, chairman and CEO of Revolution Health, and an additional, as yet unnamed member of Revolution Health's board of directors, will join the Waterfront Media board of directors. Doug McCormick, former CEO of Lifetime TV and iVillage, will hold his position as chairman of the company.
The merger expands Waterfront Media's portfolio to 24 online properties. According to comScore Media Metrix figures from August, Everyday Health garnered more than 14 million unique users – Revolution Health Network pulled in approximately 12 million. Hypothetically, the combined properties would surpass WebMD's roughly 17 million users, although figures vary month to month. Wolin wasn't ready to declare a market share victory over WebMD just yet, but expected that Waterfront Media would come "pretty darn close." Final numbers won't be available until mid-November, he said.
Meredith Abreu Ressi, vice president of Manhattan Research, said the addition of the Revolution Health Network has given Waterfront a significant boost in market share within certain condition categories, but that WebMD "has been around for much longer and is well entrenched in this space. [WebMD] still has the largest reach in terms of consumer recall of sites visited in the past 12 months." In terms of advertising, Ressi said the merger "will be an overall benefit to marketers, because it helps with the issue of scale that advertisers face in considering their media plans. While there is value to be mined from some of the smaller sites and communities out there, it is difficult to take advantage of these sites in a fragmented marketplace," she said.

Mark May, principal, equity research, at Needham & Company, said he doesn't foresee much, if any, financial impact on WebMD as a result of the merger. "This merger – in our view – is meant to add scale to Waterfront's business and to eliminate costs at Revolution," he said in an email via WebMD. "This combination does not necessarily add additional content or advertising inventory to the online health media marketplace." Additionally, the merger could "reduce price competition for WebMD, as market consolidation – in theory – strengthens the negotiating leverage of Waterfront with advertisers and agencies," said May.
Responding to May's assertions, Wolin conceded that the merger wouldn't immediately provide new advertising inventory, or additional content "tomorrow," but that growth will occur in the long run. "Everyday Health was one of the fastest growing companies in 2007, and our goal is 30 million unique [visitors] by the end of next year. Content and tools across our portfolio will continue to grow," said Wolin, adding that market consolidation works to both WebMD's and Everyday Health's benefit. 
"We want to provide the best customer experience," said Wolin.
Waterfront Media will remain headquartered in Brooklyn, NY.
Scroll down to see the next article