March 06, 2014
Merck adds heat to HCV competition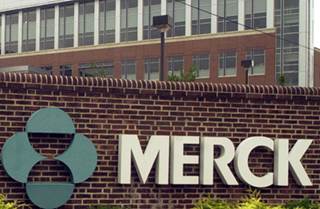 Gilead's hepatology fanbase may be set to split.
In addition to yesterday's AbbVie news that its "three-D" combination of an HCV protease inhibitor, NS5A inhibitor and NS5B inhibitor was shown to clear the virus after 12 weeks of therapy, Merck released Phase-II data Wednesday about a combination that ISI Group analyst Mark Schoenebaum described in his analysis as what "could be the first truly clinically competitive" regimen to rival Gilead's.
Merck released the data at the Conference on Retroviruses and Opportunistic Infections in Boston.
Merck's news: that 100% of patients who were both HIV- and HCV-positive who received the firm's NS3/4A protease inhibitor MK-5172, investigational HCV NS5A replication complex inhibitor MK-8742, and ribavirin had HCV RNA levels of less than 25 IU/ml after 12 weeks. Ninety percent of patients who received this combination, but without the ribavirin, scored the same HCV RNA levels after 12 weeks.
Lower HCV RNA levels were found among all members of the with- and without- ribavirin groups after four weeks of treatment. The patients had genotype-1 hep. C, the most common form of the disease.
Centers for Disease Control statistics indicate HIV patients represent a disproportionate number of hepatitis B and C patients—the CDC estimates that about 25% of HIV patients have hep. C and about 10% have hep. B.
The government agency also notes that in addition to life-threatening problems associated with both diseases, hepatitis treatments "may also complicate the management of HIV infection." The CDC also says HIV "triples the risk for liver disease, liver failure and liver-related death from HCV."
ISI's Schoenebaum noted that the Phase-II HCV clinical data look good, but that the patient group is small, and the data release does not indicate if the drug is successful among HCV patients who do not have HIV, let alone cure rates among this group.
Boehringer Ingelheim also tossed in some co-infection data of its own. The private drugmaker announced that Phase-III STARTVerso4 data showed that 72% of co-infected HIV/HCV patients were cured of their HCV infection after 12 weeks of treatment with faldaprevir, pegylated interferon and ribavirin.
BI reported that the treatment worked so well that 80% of all patients were eligible for a 24-week therapy as opposed to a 48-week regimen because they showed "early treatment success," and that 86% of these patients achieved SVR12.
BI noted, in a separate presentation, that its analysis indicated "no clinically relevant effect of faldaprevir on the pharmacokinetics of any of the HIV medications studied," including efavirenz, atazanavir/ritonavir, darunavir/ritonavir, raltegravir and tenofovir.
Scroll down to see the next article