July 02, 2014
Merck consumer guide gets 21st-century treatment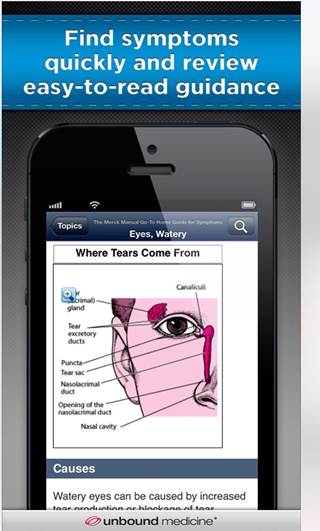 Nearly 115 years since the first edition of The Merck Manual was published, Merck recently announced that the consumer edition of the series, The Merck Manual Go-To Home Guide for Symptoms, would get the 21st-century treatment with a mobile app release on iOS and Android mobile platforms.
"People are getting more comfortable turning to their handheld devices for information," The Merck Manual's editor-in-chief, Dr. Robert Porter, told MM&M of the decision to go mobile. "We believe this is a better choice than the alternative [way to get health information] online—by conducting a search, and then having to figure out if the content can be trusted—that if we have an app, that people will use it whenever they want to look."
And the reliability of information, Dr. Porter says, is where he says this app stands out amongst the overwhelming amount of healthcare information available online and on smartphones. "We use external medical specialists to author the content—we have about 400 people throughout the English-speaking world who are experts in each topic, and they each go through an additional peer review with another specialist," he said.
The app, which will run you $4.99 as a one-time purchase, boasts information for more than 100 symptoms and their causes.
The original print guide of The Merck Manual Go-To Home Guide for Symptoms, which was introduced in 2013, is meant to serve as a first line of questioning. The manual specifically uses language with a layperson in mind to help them decide whether their discomfort is normal—or whether it may signal a more severe condition that should be evaluated by a physician.
"Access to reliable guidance immediately delivered through a mobile device can often put the user at ease," Dr. Porter affirmed.
As with the rest of the series, the app is free of any promotional or marketing claims, or any claim at all regarding Merck's products. The Manual is produced in a completely separate division of Merck, and no one other than Dr. Porter and his deputy chief reviews the final material in any way, he said, in an effort to preserve the guide's editorial integrity.
Scroll down to see the next article