January 27, 2010
Merck in row over AIDS-drug pricing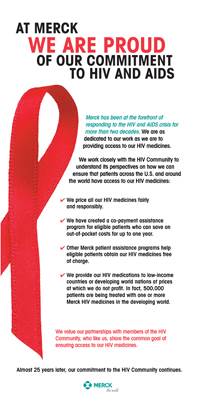 It was activism that drew the world's attention to the HIV epidemic and to the need for ethical standards in AIDS-drug testing. And activism is once again playing a role, this time in challenging a drug company, Merck, over the price of HIV/AIDS medicine Isentress.
The AIDS Healthcare Foundation (AHF), which operates free HIV/AIDS clinics in the US and abroad, this week banned Merck drug reps from calling on staff in its facilities. It was the latest move by the non-profit group in a campaign to get Merck to lower the Isentress price.
Isentress, AHF said, was originally approved in October 2007 as a salvage therapy for patients who show resistance to other AIDS drugs. Initially, Merck set the annual average wholesale price (AWP) at $12,150 per patient, but since raised it to $12,868, a 5% increase. In July 2009, the FDA expanded its use as a first-line treatment, which made the drug the most expensive first-line treatment in the US.
AHF's first tactic involved organizing a small Merck pricing protest in San Francisco at the JP Morgan Healthcare Investor conference. On the day of the protest, Merck ran a somewhat defensive, full-page color ad in the San Francisco Chronicle (at right) and issued a press release accusing AHF of making "false accusations" about the company and its pricing.
Because AHF issued a media alert about the protest and had publicly provided information about the Isentress pricing, "We felt it necessary and in the best interests of patients to provide the accurate information," a Merck spokesperson told MM&M, adding that no additional ad buys are planned at this time.
With the two yet to resolve their impasse, AHF then sent a letter to Merck CEO Richard Clark instituting the ban on Merck sales reps in AHF healthcare centers, of which there are about a dozen in the US.
For its part, Merck continues to refer media to the statement, issued two weeks ago, in which the company insisted it had priced Isentress "responsibly...after consultation with respected leaders in the HIV community." Merck also offers a patient-assistance program through which eligible patients can get the drug for free.
John Martin, CEO of Gilead Sciences, maker of the most-prescribed HIV/AIDS drugs, knows what Merck is going through. In 2004 Act Up–Paris and other patient groups mounted a coordinated effort decrying the standard of care in randomized trials for Gilead's oral antiretroviral drug tenofovir (Viread).
Opposition halted the progress of at least two important trials of tenofovir, with observers comparing the negative attention brought to tenofovir to that visited on thalidomide decades ago.
To balance business goals with patient access, "You have to have very good judgment," Martin told CNBC after the Merck protest. "You need to make sure you do responsible pricing." He added, "The various groups involved with HIV provide a lot of value, not only feedback on pricing but feedback on design of studies; access not only in the United States but access around the world."
Scroll down to see the next article