April 10, 2014
Merck looks poised to challenge Gilead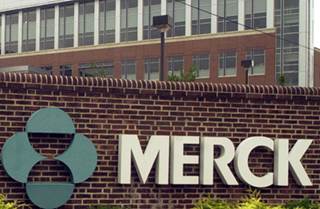 Gilead's hepatitis C medication Sovaldi may have more than angry lawmakers to contend with: Phase-II data for Merck's daily one-pill combination of MK-5172 and MK-8742 has analysts marking this drug as a potential rival to the $84,000 medication that has become famous both for its price and ability to purge patients of the HCV virus.
Merck's C-WORTHy was a randomized study among treatment-naïve genotype-1 patients. The study included one group which received the NS3/4A protease inhibitor MK-5172 and NS5a replication complex inhibitor MK-8742, without ribavirin for 24 or 12 weeks, and a second group which received the combination drug and ribivirin for 8 or 12 weeks.
The result: 97% clearance among the 12-week ribavirin-free group (97% of genotype 1a, and 100% of genotype 1b), 94% clearance among the 12-week with ribavirin group, and 83% clearance among the eight-week with ribavirin group.
Bump the treatment regimen up to 24 weeks, and the Merck-only therapy hit a 98% clearance rate.
Gilead's Sovaldi has also been shown to have a high 12-week clearance rate, but unlike Merck's experimental therapy, Gilead's approved all-oral is part of a larger anti-viral regimen, whereas Merck's experimental treatment could offer a one-and-done daily regimen.
Market watchers indicate that Merck's drug will put pressure on Gilead, but ISI Group analyst Mark Schoenebaum wrote in a Wednesday research note that it won't unseat Gilead's Sovaldi because of its limited target population—genotype-1 patients.
Gilead's Sovaldi has the potential to be used across multiple genotypes, and the company is also working on its own one-and-done combination which mixes Sovaldi and ledipasvir for genotype-1 patients.
While Schoenebaum's analysis covers a potential face-off between Gilead and Merck, the hepatitis fight includes additional entrants, such as AbbVie, which is working on a multi-pill all-oral regimen in additional to an all-in-one oral treatment, and Bristol-Myers Squibb, which announced Thursday that Phase-III results of its all-oral hepatitis C treatment had a 90% viral clearance rate among treatment-naïve patients after 12 weeks of therapy.
Scroll down to see the next article