April 29, 2014
Merck Q1 sales fall, but diabetes rises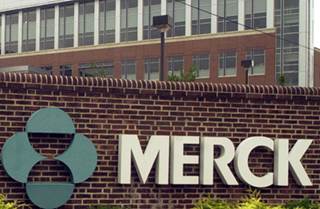 Despite the media heat around recent pharmaceutical swaps and attempted acquisitions, like the Pfizer-AstraZeneca intrigue, Merck reiterated during its Tuesday earnings call that its M&A targets would be bolt-on acquisitions, not major marriages.
At the same time, the company said it is also looking into opportunities for its consumer and animal health businesses, a strategy it has also noted for several back-to-back quarters. A recent bite includes Monday's news that Reckitt Benckiser may be interested in taking the consumer portfolio off of Merck's hands.
Earnings for the quarter wrapped were "decent, but not great," ISI Group analyst Mark Schoenebaum summed in an early-morning reaction to the company's numbers. Worldwide sales fell 4% compared to the same period last year, to $10.3 billion. The company attributed part of the fall-off to patent expirations and to foreign-exchange rates.
Falling sales numbers were scattered among several medications, but dips of note included allergy meds Singulair, the now-off-patent drug which clocked a 20% drop in sales compared to the same period last year, and Nasonex, which logged $312 million in sales, a 19% drop from the same period last year. Nasonex was slated to lose patent protection this past January.
Sales for diabetes medications Januvia/Janumet rose 3% for the quarter, to $1.3 billion. Executives noted that an increase seen in new-to-brand users was the first in a very long time. The growth came amid what ISI's Schoenebaum called "new and aggressive price competition in 2013" plaguing the DPP-IV category.
Consumer Care sales fell 4% compared to the same period last year. The company, which manufacturers the OTC medication Claritin, said a shortened allergy season in North America contributed to lower consumer sales.
The company said it would reveal pipeline news at an event next week, but said it is reviewing data for its osteoporosis treatment odanacatib. The company backed away from a 2013 filing, saying it needed more data. R&D chief Roger Perlmutter said the company may discuss the drug at next week's meeting.
The company also expects to discuss the progress of its hepatitis prospects during that meeting. Its candidates include an experimental treatment that works in patients who are infected with both HIV and hep. C. This ability is of note because many patients have both infections and the drugs can conflict with each other.
While the hepatitis drug market may appear to be crowded, EVP and Global Human Health president Adam Schechter downplayed investor tension about how Merck's offering will differentiate itself, saying the market is "a large opportunity that's going to play out over many years...across the globe," and that it is not a treatment situation in which "winner takes all."
Merck also expects to talk about its experimental lung cancer drug MK-3475 next week. The immuno-oncology field is a heated one that also includes Bristol-Myers Squibb, which announced plans to file its lung cancer drug by year's end, as well as AstraZeneca and Roche.
While Merck noted that FDA approval of allergy medications Ragwitek and Grastek were notable Q1 achievements, the company has promotional work ahead. "We missed the grass season," Schechter said in his response to an analyst comment that "no one is really talking about" the approved medications.
Scroll down to see the next article