November 22, 2011
Merck wraps up Vioxx litigation with feds, states: $1b in fines, new CIA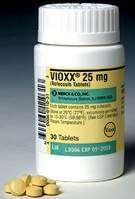 Seven years after the biggest drug safety scandal since thalidomide was found to cause birth defects, Merck and the Justice Department announced a nearly $1 billion settlement of litigation over Vioxx, the Cox-2 pain drug found to cause strokes and heart attacks.

Merck agreed to plead guilty to peddling the drug off-label -- for rheumatoid arthritis, for three years before the company won approval for that indication -- and to pay a $321 million criminal fine. That's on top of $628 million that the drug maker will pay in a civil settlement on charges of additional off-label marketing and making false claims regarding the cardiovascular safety profile of the drug to boost sales. The feds will claim $426 million of that, with the remaining $201 million going to the participating Medicaid states. All told, Merck will pay $950 million for both the criminal and civil parts of the settlement.

The manufacturer also agreed to enter an "expansive" Corporate Integrity Agreement with the Office of the Inspector General of the Department of Health and Human Services "which will strengthen the system of reviews and oversight procedures imposed on the company," the government said, with the aim of "deterring and detecting similar conduct in the future." The agreement, which replaces a preexisting CIA, requires top company officials to complete annual compliance certifications and for the company to disclose physician payment information on its website, said the Justice Department.

"Merck recognizes the importance of robust compliance programs and is committed to adhering to the law and to our fundamental values and standards," said Merck EVP, general counsel Bruce Kuhlik. "We believe that the settlement of this lengthy investigation is in the best interests of our stakeholders, and we look forward to focusing on our mission to save and improve lives around the world."

The case was handled by the Justice Department's civil division and the US Attorney's Office for the District of Massachusetts, while the investigation was handled by an alphabet soup of federal agencies including HHS-OIG, the FBI, the Office of Criminal Investigations for the FDA, the Veterans Administration's Office of Criminal Investigations, the Office of the Inspector General for the Office of Personnel Management, the National Association of Medicaid Fraud Control Units, along with the offices of various state attorneys general.

Vioxx was withdrawn from the market in September, 2004 amid damning news coverage suggesting that the company downplayed early red flags regarding the drug's heart safety profile. At the time, analysts said the company would be a prime acquisition target were it not so toxic, but for the most part, Merck lawyers prevailed in civil litigation and the built itself back up with a root-and-branch reorg and big drug development successes like Gardasil and Januvia under the leadership of Richard Clark and Ken Frasier.
Scroll down to see the next article