March 27, 2012
Millennium CEO says industry must brace for change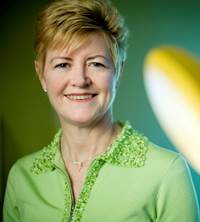 The drug industry is struggling with more than expiring patents and shrinking sales forces, Millennium Pharmaceuticals CEO Deborah Dunsire told industry watchers Tuesday. Rather, it's wrestling with a top-to-bottom revolution.

In her keynote address to the MM&M Virtual Summit, Dunsire said the industry will find success with increasing focus, which means putting an end to trying to medicate vast swaths of patients and instead pursuing personalized medicine and being honest about what patients will benefit from which medications.

Dunsire said industry executives will find that this strategy is "easy to say but not always easy to do," but emphasized that blockbuster treatments have been built on medications aimed at small patient populations. "Embracing personalized medicine can be a very good business strategy," she said.
[You can stream the summit's archived presentations. Simply log in.]
Dunsire said the conversations executives need to have about their mission and their focus need to change because it's no longer enough to get regulatory approval and patient buy-in, as payers like NICE and CMS are the true gatekeepers to market access.
"I'm trying to remember even one molecule with tremendous impact for patients that even went through NICE on the first go-round," she said, as an example of the additional promotion that is now part of the industry's marketing process.
Dunsire noted that regulatory and payer agencies are increasingly teaming up. As an example, she said FDA and CMS are collaborating on joint review for medical devices.
"Even though they maintain that price is really not a prerequisite for approval and there isn't a focus on price during the approval process, it does portend a change in the way things are going to be done in the US," she said.
Dunsire said that although costs are rising and early-stage investors are skittish, there is still opportunity for innovation as long as the focus is on unmet needs and being able to prove the treatment's value. She said it's also about being strategic.
"We really have to think and collaborate and talk with our regulators and our investigators on an ongoing basis," as a way to ensure success, said Dunsire.
Scroll down to see the next article