July 23, 2007
Mirapex campaign gets kick from research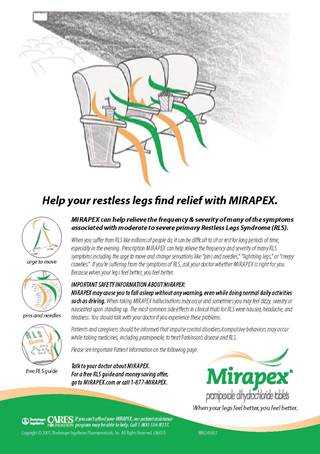 Boehringer Ingelheim's DTC campaign for Mirapex broke last week, days after scientists reported a genetic basis for restless leg syndrome, helping legitimize the disorder.
Television ads complement print buys in national publications including Prevention, Health and Good Housekeeping magazines, as well as online advertising. The animated spots feature a pair of legs in the Mirapex logo colors, orange and green, and the tag line, "When your legs feel better, you feel better." The spots and print ads featuring the anthropomorphic limbs were created by Ogilvy NY, while the animation work was done by London-based animation studio Sherbert.
The private firm is not releasing any further details about the media plan, such as budget. But Mirapex got some free publicity riding on the coattails of the two RLS studies.
"It was just a coincidence," Kate O'Connor, Boehringer Ingelheim associate director, communications & PR, said about the research, "but the fact that RLS has been such a prominent news subject for the past week or so of course can only help to build awareness of RLS, which is the objective of the campaign."
The two research groups, working independently of each other, reported the biologic underpinnings of RLS in Nature Genetics and in The New England Journal of Medicine. Both discovered the same variations in three genes to be associated with a higher probability of RLS, confirming it among German and French-Canadian patient populations and among Icelanders and Americans.
News outlets from The New York Times to CNN and ABC News picked up the story, some mentioning the two available treatments, Mirapex and GlaxoSmithKline's Requip. GSK sold $496 million worth of Requip in 2006, and sales of the drug grew 50% to $157 million in the first quarter of this year.
Requip's success in RLS has led to charges of disease mongering. Dr. Steve Woloshin, a senior research associate at the VA Outcomes Group in Vermont, told ABC News that the scientific papers prove that the marketing of RLS is ahead of the science. "It seems a little crazy to…push RLS into America's consciousness when we don't really understand what it is, who has it, or how to decide if or when medication is needed."
On the other hand, RLS is "on a firmer footing" thanks to the new findings, Dr. Christopher Earley, a Johns Hopkins University physician who treats the disorder, told the Times.
Like Mirapex, Requip was originally developed for treating Parkinson's disease, and both affect the brain chemical dopamine. Mirapex gained approval for moderate-to-severe primary RLS last November after securing approved throughout the European Union for the indication.
Boehringer estimates up to 10% of the adult population has the whole range of mild, moderate or severe RLS, "but we think about 12 million people suffer from moderate-to-severe primary RLS, which means those are people who would potentially require medical treatment," O'Connor said.
The firm's new campaign is one aspect of a multi-channel program to drive awareness about RLS that also includes Web-based resources including RLSrest.com and online advertising, in place since the beginning of the year. Physician education includes detailing, as well as an "RLS Simulator"—a boot that is combined with an audio-visual headset designed to mimic the experience of RLS for physicians gathered at major medical meetings.
"When people...describe having these sensations, physicians who don't have RLS must wonder what it feels like," O'Connor said. "We've done our best to mimic that."

Scroll down to see the next article