October 03, 2013
MM&M Award Winners Announced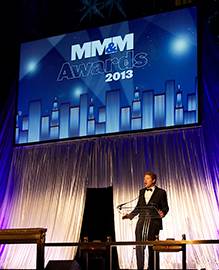 Two agencies may have seemed ever-present in the winner's circle, but the accolades spread far and wide at last night's MM&M Awards, as network-owned agencies dominated in traditional media and some upstarts shined in digital categories.
Nearly 700 healthcare marketers gathering for the evening at Cipriani 42nd St. for the 2013 awards ceremony saw patient-marketing shop CDMi Connect take home five trophies. These included a pair of Golds (TV and print) shared with Omnicom sibling BBDO as part of CDM's network-wide Healthwork partnership for their "Bigger Than" campaign for Genentech. The agency scored two more Golds in direct marketing and a Silver for a print campaign.
While that was the most of any one shop, Interpublic's ICC Lowe collected a still-impressive four trophies—all of them gold—for its Buscopan "Take Control" print ad for Boehringer Ingelheim, print campaign Activyl "Switch The Itch," professional sales aid for Shire's "Adult Maintenance" campaign, and a short film in the agency self-promotion category.
Also notable, among publishers, Remedy Health Media swept the Best Healthcare Consumer Media Brand category, taking both top awards, and MDLinx won the Gold in the Best Healthcare Professional Media Brand category, with Everyday Health's MedPageToday taking Silver.
For promotional work, Publicis out-earned other holding companies, with its shops collecting a total of nine awards, highlighted by Saatchi & Saatchi Wellness's Allegra.com for Chattem; PHCG's Auvi-Q online clinical advisor and Auvi-Q Launch and Beyond efforts for Sanofi; and Digitas Health's Own It online initiative for Shire—all of them gold awards—plus a smattering of Silvers.
Not to be outdone, independent shops made their presence felt in the digital categories. Upstart Toronto-based Brightworks Interactive Marketing claimed a Gold for its eczema app, created for Bayer Dermatology. CementBloc and HealthEd did the indies proud, with gold and silver awards, as did silver winners Intouch and Klick Health, among others.
The ceremony culminated with the gold and silver awards for multichannel marketing efforts, both large and small clients. Fittingly, this was split four ways among Interpublic (Deutsch), Publicis (PHCG), Havas (Arnold NYC) and indie (StoneArch).
The MM&M Awards recognize and champion both creativity and effectiveness in healthcare marketing and communications in healthcare across 24 categories, as determined by an independent panel of judges representing all sectors of the industry. To find out more about all of this year's winners, click here.
Scroll down to see the next article