November 30, 2007
MM&M launches New Drug Dossier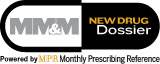 MM&M's New Drug Dossier is designed to give pharmaceutical marketers authoritative promotional and clinical insights on the latest new molecular entities in one online resource.
The New Drug Dossier culls together marketing insights from MM&M with clinical information from Monthly Prescribing Reference (MPR) to provide a valuable business intelligence tool. Every time a new drug is approved, a dossier will be compiled, and subscribers will be alerted to it by e-mail.
Each in-depth dossier consists of agency rosters, marketing strategy/execution and recent news coverage from MM&M. The tool draws on IMS Health for financial charts, the GfK US Healthcare Companies for a physician prescribing outlook and Adis R&D Insight (part of Wolters Kluwer Health) for late-stage pipeline candidates.
The full range of information also includes the following drug information from MPR: class, indication, active ingredient, pharmacology, clinical trials, adverse reactions and more.
Readers can view a sample dossier, as well as sign up for a subscription to the full New Drug Dossier archive, which contains dossiers on drugs launched in 2007. New dossiers will be based on new molecular entities, combinations thereof and select new indications. Act now for a special introductory rate.
Scroll down to see the next article