May 04, 2011
Mobile mania: smartphone users dialing up health info; docs prefer Apple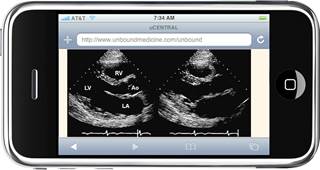 Another day, another batch of survey data showing that smartphones have become the tail wagging the dog in medical media.

A Kantar Media survey found that among those cell phone customers using their devices to go online, a quarter, or around 19.3 million, are going online for health-related information.

The survey of 20,000 found that while four-fifths of Americans own a cell or smart phone, two-thirds of adults use their phones to surf the Web, access email, download content, send photos or update social networking sites, while the remaining third uses their phones only for texting or calls. The average age of those searching for health info on their phones is 33 – considerably younger than the average age of the entire adult population (46). They are just as likely to access the Internet through their phones as through laptops or desktop computers.

They're comfortable registering on disease-specific websites, said Kantar, and they find online healthcare advertising credible. After being exposed to an ad, they tend to visit specific websites or conduct online research, and they are likely to call toll free numbers or return free sample cards. A third are also big magazine readers.

"With the number of mobile units by some accounts exceeding those of computers, these devices are becoming the primary entry point for internet access," said Jayne Krahn, VP consumer health and custom research at Kantar.

Meanwhile, Manhattan Research reports that three-quarters of US physicians now own an Apple device – iPhone, iPad or iPod – and that 81% own some type of smartphone. The iPad is coming on strong. Thirty percent of doctors own one and another 28% told Manhattan Research they plan to get one within the next six months.

"Despite the success of the Android platform in the overall consumer market, physicians are flocking to the iPhone as their smartphone of choice," said Manhattan Research president Meredith Ressi, who noted that docs are particularly gung-ho about the iPad for use in clinical practice and look forward to accessing electronic medical records through the devices, according to the phone and online survey of 2,041 US practicing physicians.

"As more EMR providers offer this ability, iPad accessibility may be a deciding factor for some practices when selecting an EMR provider," she added.
Scroll down to see the next article