September 19, 2013
Mylan expands Get Schooled anaphylaxis tool box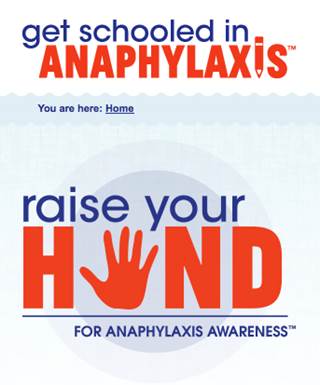 Mylan's year-old Get Schooled in Anaphylaxis program, which includes the website Anaphylaxis101, got a refresh during the back-to-school rush with an e-book narrated by Modern Family actress Julie Bowen. The set up builds on the relationship established last year: Ana does not have food allergies, but her brother Phyl does, with Ana serving as a role model who makes accommodations and shares awareness and the need to create allergy-safe environments. Bowen, whose son has life threatening allergies, has been with the program since its launch.
The e-book release and the 101 campaign are part of Mylan's anaphylaxis awareness efforts, which have included events like making the upper deck at the Pittsburgh Pirates PNC ballpark a peanut-free zone for on Allergy Awareness night, an event that is now in its second year. The company manufactures epinephrine auto-injectors.
Ideas submitted by first through 12th graders in a contest helped established the e-book's premise. In this case, Ana and Phyl's school is going to have a carnival and allergy-free Ana recommends an allergy-friendly one. The book shows how kids and parents can make swaps, such as streamers instead of balloons to bypass latex worries, and serving shaved ice, instead of ice cream, to avoid milk allergens, bringing the discussion about allergy-friendly environments beyond go-tos like peanuts and shellfish.
Not everyone is on board with changing environments to be allergy friendly, a point the Carnival book makes, but concern about not just avoiding allergens, but keeping them beyond reach is growing. The New York Times's Jan Hoffman wrote about a mother who asks travelers not to eat peanuts around her children, and a study JAMA Pediatrics published in September pegged the cost of childhood food allergies to be around $25 million a year, or around $4,184 per child. This total includes medical, out-of-pocket and lost productivity costs.
Global Communications VP Nina Devlin tells MM&M in an email that more than 125,000 visitors have checked out the Get Schooled site since its September 2012 launch. She says the site's most visited components include Raise Your Hand for Anaphylaxis Awareness competition and the resources library which includes tools like an anaphylaxis lesson plan, information about student rights and letters administrators can send to families outlining school allergen-conscious food policies which include requests like listing ingredients on any baked items to be shared with a class.
Mylan's 2013 promotion plan is much like that of 2012. Devlin says the company is using Twitter, Facebook and a public service announcement to promote the site, in addition to the media interviews Bowen is doing to support the initiative.
Scroll down to see the next article