September 16, 2009
Myriad Genetics takes cancer awareness to the Midwest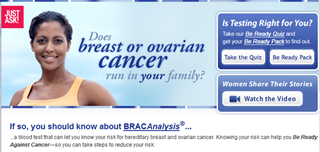 In an extension of a long-running hereditary breast and cancer awareness campaign, Myriad Genetics launched consumer advertising materials in five Midwest states on Monday.
The campaign targets women ages 25 to 54 with a family or personal history of breast or ovarian cancer, and physicians who care for these women on an ongoing basis, according to a spokesperson at Ogilvy, the campaign's public relations firm. Professional outreach includes educating physicians on how to identify appropriate patients. Myriad's other agency partners on the campaign include Lehman Millet and Blitz Media.
Television spots running on network channels through spring of 2010 will include branded messages for the BRACAnalysis test, a blood test that can determine a woman's level of risk for breast or ovarian cancer, although200 the overall campaign is an unbranded awareness initiative, the spokesperson said. Ads drive traffic to
www.bracnow.com
, and by phone to 1-866-BRACNOW. Outreach to physicians began six months ago in the form of meetings, letters and emails, the spokesperson said.
The Midwest campaign is an extension of an initiative that began in the Northeast in 2007/2008 and was rolled out in Florida and Texas last year, the spokesperson said. The current campaign is running in Illinois, Indiana, Kentucky, Missouri and Ohio.
Scroll down to see the next article