February 22, 2008
Nasonex, Rozerem ads most recalled of 2007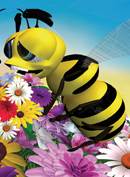 DTC TV prescription drug ads featuring an animated bee and a talking beaver were most recalled by consumers during 2007, according to ad performance tracking firm IAG Research.

A 30-second spot featuring Schering-Plough's Nasonex bee was the most recalled broadcast and cable TV ad, followed by a 60-second spot for Takeda's Rozerem featuring the tagline "Your Dreams Miss You."

Ads for Merck/Schering/Plough's Vytorin and Pfizer's Lipitor featuring Dr. Robert Jarvik followed close behind in terms of consumer ad recall. (See data below).
Most recalled new prescription drug/vaccine ads -- (based on new ads launched in calendar 2007 - 1.1.07 through 12.31.07)
1. Nasonex,Schering-Plough- Animated bee talks about prevention of allergy symptoms, 30- second spot
2. Rozerem, Takeda- Abe Lincoln, talking beaver, man in diving suit at bus stop; "Your Dreams Miss You", 60-second spot
3.Vytorin, Merck/Schering-Plough- Plates of food next to shots of relatives; tuna and peas, Grandma Louise, 60-second spot
4.Lipitor, Pfizer- Dr. Robert Jarvik in white lab coat discusses heart disease, 60-second spot

5.(Tie) Chantix Pfizer- Tortoise and hare, 60-second spot
Vytorin, Merck/Schering-Plough- Plates of food next to shots of realtives; Grandpa Bo, bowtie pasta, 60-second spot
6.(Tie) Lunesta, Sepracor- Luna moth flies into bedrooms, 60-second spot
Cialis Eli Lilly- Couples in various romantic places, 60-second spot
7.(Tie)Gardasil, Merck- Various young women (cowgirl, colorguard, gymnast) Tagline: "One Less," 60-second spot
Rozerem, Takeda- Abe Lincoln, talking beaver, man in diving suit at office; "Your Dreams Miss You," 60-second spot

-courtesy IAG Research
Scroll down to see the next article