January 25, 2011
New depression med hopes to grab a piece of the $12 billion pie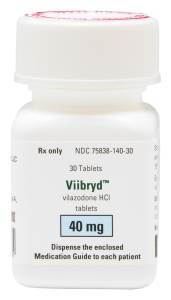 With depression brand leaders Cymbalta and Lexapro closing in on patent expiry, Clinical Data's newly approved Viibryd (vilazodone HCI) for major depressive disorder hopes to carve out a piece of the roughly $12 billion US market.
Drew Fromkin, CEO and president at Clinical Data, said marketing materials will emphasis Viibryd's "different kind of mechanism," which consists of the "first and only" selective serotonin reuptake inhibitor (SSRI) and a serotonin 1a receptor partial agonist, in a single molecule. Viibryd is slated to launch during the second quarter of this year.
Fromkin said that, while no head-to-head studies have been conducted to compare Viibryd with other drugs on the market, "at the macro level, we have a very safe drug here, and the adverse events are very different than you see in other [depression] drugs." Specifically, Viibryd "doesn't have any issues with respect to cardiac or liver function issues, blood pressure and other vitals," said Fromkin. "You don't see that with our drug."
The most frequent adverse reactions to Viibryd in clinical trials included diarrhea, nausea, and vomiting, but "the reality is that it only happens in the first week or two…as people get adjusted to the drug," said Fromkin. "No adverse event on our drug caused more than a 1% drop out rate" in clinical trials, he said. Insomnia was also a commonly occurring side effect in clinical studies, according to an FDA release.
Clincial Data, which transitioned into a pharmaceutical company in December after selling its genetic testing business to Transgenomic for $15.5 billion, is in the process of hiring sales reps, and expects to have 150 reps ready to go when the drug launches, Fromkin said. Reps will target psychiatrists and high-prescribing primary care physicians, said Fomkin, adding that it's "more likely that we would focus on the specialty psychiatry side, and hope to expand through other relationships on the primary care side."
Fromkin declined to name agency partners on the launch, but said that "one of the largest" healthcare shops in the New York City metro area is working on the brand, and that "sub-agencies" would handle various aspects of the business, such as payers and managed markets, and physician marketing materials. Clinical Data launched market-warming print advertorials in early January, ahead of Viibryd's January 21 FDA approval, detailing unmet needs in the market, and tolerability issues with patients, Fromkin said.
According to SDI data, total US sales of SSRIs and SNRIs in 2010 were $9.8 billion, up 2.5% from 2009. Lilly's Cymbalta and Forest Laboratories' Lexapro were the top sellers, at $2.6 and $2.5 billion respectively. Cymbalta was also the biggest spender of the category, investing $147 million on DTC and journal ads for the first nine months of 2010. Pfizer's Pristiq spent a combined $112 million, and Forest's Lexapro spent just $9 million, after foregoing DTC ads in 2010, according to SDI data. Cymbalta and Lexapro are both expected to face generic competition in 2013 and 2012, respectively.
Scroll down to see the next article